Recaps from varsity athletic events from May 18 to May 24.
News
BESPYS Athletics Awards Event on May 31
Bishop's Athletics invites all upper school athletes and parents/guardians to the first annual BESPYS awards celebrating our varsity athletes. Knights Awards and other athletic awards will be presented that evening. Think the ESPYS with Bishop's flair. The maroon carpet rolls out May 31 from 5 - 7:30 p.m. on campus. Light refreshments. A-game attire. RSVP here.
Summer Strength and Conditioning for Bishop's Students
This summer, Bishop's Athletics is offering our strength and agility program to all enrolled students in grades 6-12. In supporting Bishop's Strategic Plan with a focus on student wellness, this summer strength and conditioning program is free to all Bishop's students.
The Knights Strength & Agility Program is designed to help student-athletes in grades six through twelve improve their overall athleticism. A series of functional exercises, speed training and conditioning drills are matched together to emphasize strength, speed, agility, flexibility and endurance, benefitting any student regardless of their sport or activity. The program also emphasizes balance, stability, coordination, reaction time and explosive power.

Morning and afternoon sessions will meet for 90 minutes per day, three days per week, in the Coleman Family Health and Fitness Center and on Hunte Fields at the Fowler Athletic Complex on Bishop's campus.
Registration closes on June 1 so we can adequately staff the program. If you have multiple students at Bishop's, please fill out the form separately for each student. Sign ups after June 1 will be put on a waitlist pending available facility space.

All students participating in the summer program must have a signed medical consent form turned in the first day they attend training. The medical consent form will be emailed out prior to the start of the program.
Register here. For more information, contact Charles Johnson at (858) 875-0779.
---
Recaps
Boys' Golf Wins CIF Championship
By Coach David Payne
Boys' Golf successfully defended its CIF Division III title this week at La Costa Legends Golf Course!
The team outlasted league rivals Pacific Ridge and No. 3-ranked Coronado by 10 strokes.
This was the final round that capped off a great high school career for seniors Michael Behr, Aarav Chandra and Graham Walker.
With Ryan Davis '23, William Ma '24, Kayden Wang '25 and Michael Geng '24 returning for the 2023 season, the Knights hope to make it three consecutive CIF Division III championships next season.
Track and Field Wins Individual CIF Division 3 Championships
By Coach Yvette Davis
In the final meet of the season, the girls' and boys' 4x400 meter relay teams ran season-best times to place first in their division at the CIF Finals last weekend.
Running for the girls with a time of 4:13.25 was Lexi Houk '23, Maddie Cramer '22, Michelle Lai '22 and Malaya Taylor '25. Maddie also earned gold in the 800M (2:13.14), missing the state qualifying time by less than a second. She also placed fifth in the 200M (26.12). Malaya finished fifth in the 100M (12.76) and sixth in the 200M (26.19).
Xavier Rodriguez '23, Jay Udinsky '23, Tayshawn Taylor '23 and Paul Madany '22 finished in 3:30.58 to win the 4x400. Paul also placed fourth in the 400M (52.4), while Xavier finished fourth in the 200M (22.39) and fifth in the 100M (11.29). Jay ran a personal best of 2:03.06 in the 800M to place seventh.
We are extremely proud of these CIF finalists and the entire Bishop's track and field team. Congratulations on a great season!
Girls' Lacrosse Advances to CIF Championship
By Coach Meg Carr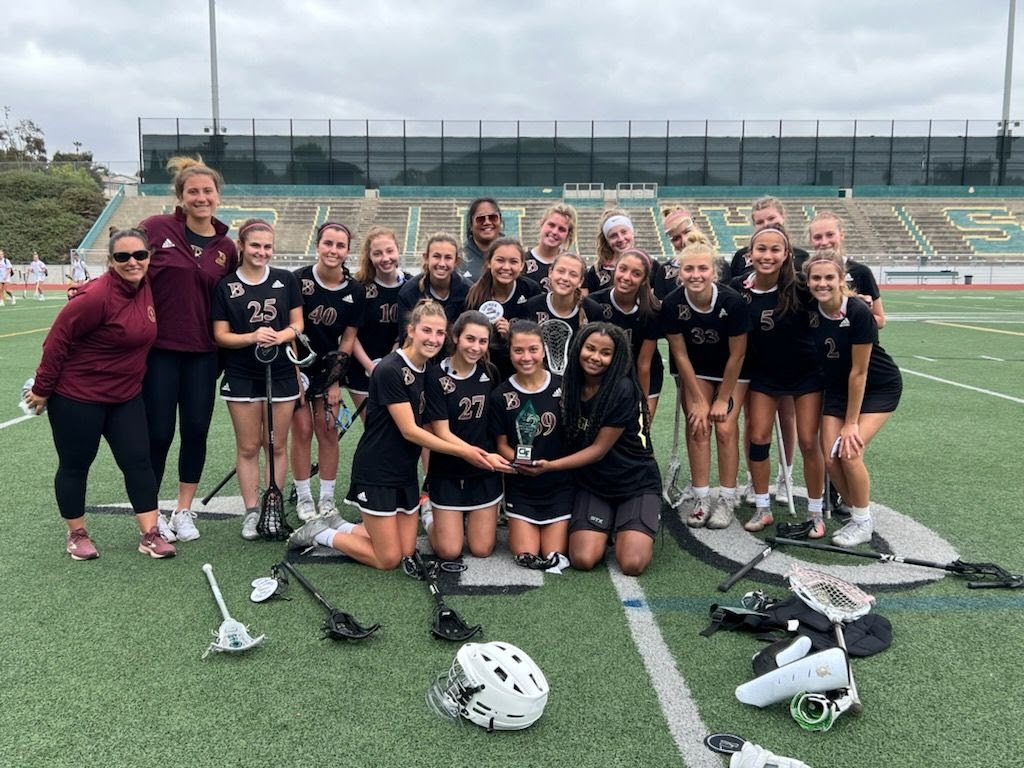 Girls' Lacrosse finished 16-6, advancing to the CIF Division 1 finals after beating San Dieguito Academy at home 18-9 in the semifinal game.
Six different players scored against SDA, with senior Sara Hamadeh netting her first hat trick of the season as a left-handed shooter. Natalie Marvin '25 came up big in the midfield with five goals and five draws. Erika Pfister '23 had a record-breaking draw control this season with nine, followed by four goals and two assists.
Jordyn Mariam '23 had two goals and seven draw controls, with Alex Pfister '25 adding three goals and Yasmin Henderson '22 scoring once. Senior Zen Greene had six critical saves.

In the finals, the team fell to Coronado, 15-7.
This team demonstrated leadership, unity and a love for the game of lacrosse. We wish our seniors well in their new endeavors: Zen Greene, Yasmin Henderson, Sara Hamadeh and Tate Vaccaro. Go Knights!
Boys' Lacrosse Finishes Season 20-2
By Coach Steve Sepeta
Boys' Lacrosse capped an incredible season with a trip to the CIF Open Division Championship game Saturday evening, falling to Torrey Pines 10-5.
The top-seeded Falcons opened the game against the second-seeded Knights with a 8-2 lead, but Bishop's pulled within three to make the score 8-5. Torrey Pines net two fourth-quarter goals for the final 10-5 score.
Casey Ryan '23 net a hat trick to lead the Knights offensively. Junior Hewitt Watkins and sophomore Colin Fagan each scored once. Seniors Jack Hertz, Mike Houk and Mark Stone caused one turnover each. In the cage, freshman Eddie McElroy made 16 saves, stopping 62 percent of shots on goal.
The boys had a stellar season, finishing with a record of 20-2 and as the second-ranked team in San Diego County. Thank you to our seniors Calvin Belmonte-Ryu, Jackson Landa, Jack Hertz, Mike Houk and Mark Stone for your dedication to our program and for your outstanding leadership this year. Also, thank you to all of our fans for coming out to support us all season long. It really meant a lot to the boys and the coaches. See you next spring!
Four-Year Spring Student-Athletes Honored
Congratulations to our four-year spring sport student-athletes, and thank you for your contribution to Knights Athletics!
Baseball: Cooper Coleman, Bode Grieve, Hunter Kates, Rhett LaRocca, Julian Tang
Boys' Golf: Michael Behr, Aarav Chandra, Graham Walker
Boys' Lacrosse: Calvin Belmonte-Ryu, Jack Hertz, Mike Houk, Jackson Landa
Girls' Lacrosse: Abby Beamer, Sara Hamadeh, Yasmin Henderson, Tate Vaccaro
Softball: Jackie Cosio, Maggie Johnson, Soyoon Park
Swimming and Diving: Alex Bonaguidi, Lucius Brown, Maddie Cayer, Greyson Davies, Garrett Johnson, Maggie Johnson, Justin Korn, Sancia Milton, Emmy Peabody, Alex Scafidi, Deming Wyer
Boys' Tennis: Eric Li, Nicholas Liu, Michael Zeng
Track and Field: Maddie Cramer, Michelle Lai, Paul Madany
Boys' Volleyball: Russell Cleary, Sam Gal, Logan Howard, Connor Macomber, Stephen Marren