The Locker Room: Sept. 29, 2021
Jen Jordan
Girls' Volleyball Sweeps La Jolla Country Day in Three
By Al Gomez

Bishop's took down Coastal League rival La Jolla Country Day in three sets (25-20, 25-15, 25-16). The Knights played amazing defense and took advantage of scoring opportunities.

Matsa Shi '24 had six aces during the match, played phenomenal defense (11 digs) and was consistent passing all night.

Brynne Faltinsky '22 and Kaia Grieve '24 led the Knights offense finishing with 20 and 10 kills respectively.

Juniors Sydney Bold and Lyle LaRocca combined for 17 digs.

Bishop's heads to Phoenix this week to play in the Nike Tournament and will face some of the top teams in the country.
Field Hockey Ranked Among County's Best
By Coach Meg Carr
The Field Hockey program is currently ranked among the top 10 of San Diego's Division 1 teams.
Varsity started off the week with an incredible fast-paced game against Rancho Bernardo where the Knights persevered with a 2-0 victory. The first goal came late in the third quarter by Nicola Xanthopoulos '23 off a corner and the second one came in the fourth by senior captain Yasmin Henderson, also off a corner. Senior goalkeeper Maggie Johnson had 14 saves, including an aerial save in the fourth quarter which was key to the game's intensity and drive.
This weekend, the team placed third at the Helix Tournament. The Knights lost 2-0 to Poway Friday night, but came back to beat Eastlake later that evening, 5-1. Leila Feldman '24 lit up the scoreboard with three goals. Lilian Franqui '25 and Mia Gaspar '24 each scored a goal. Emily Zhu '23 led with two assists. Erika Pfister '23, Lily Gover '24, Jackie Cosio '22 and Bella Myer '22 kept up the pressure on Eastlake and worked hard to transition the ball into our attack.
We beat Helix at 9 a.m. the next morning, 1-0. The lone score was a picture perfect goal by Yasi with an assist from ninth-grader Natalie Marvin.
In the tournament's skill tournament, Bishop's was well-represented! Maggie took first in the goalie competition among six other goalies. Lauren Forgrave '25 and Lily were first and second in the target competition. Gabby '25 and Mia Gaspar were second and third in the technical skills obstacle course.
A shout-out to the junior varsity team, who beat Rancho Bernardo's JV team 6-1 last week. Alex Pfister '25 had a hat trick. Gabby scored two goals and Laine Jeffery '25 had a goal and three assists. Macy Haro '23 and Safina Abraham '25 both stepped up to play goalie this game and their leadership shined through their energy for the team.
At the tournament, Bishop's Field Hockey celebrated our assistant coach's Kasey Simonds's upcoming wedding with a fun surprise shower. Congratulations, Kasey!
Girls' Golf Beats Orange Glen
By Al Gomez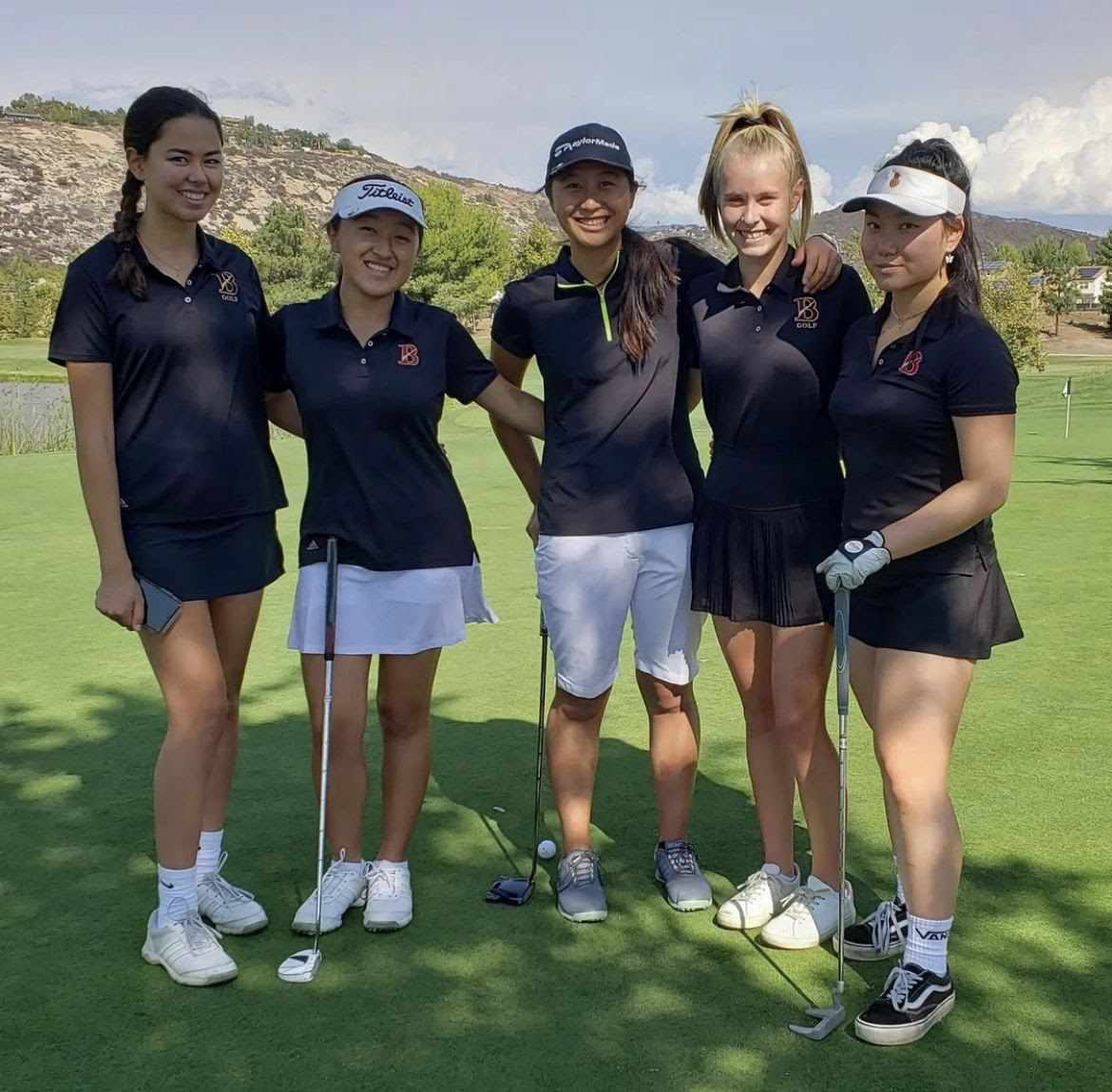 Girls' Golf traveled to Native Oaks Golf Course to play a Coastal League match against Orange Glen. The Knights came out on top, finishing with a team score of 218.

Grace Sun '23 and Ashlyn Garrigan '25 both shot a match low score of 40. Andrea Rix '22 and Joyce Wu '25 each shot 41. Annie Fang '22 finished the day with a 56.

Bishop's continues Coastal League action with a match on Thursday at Mission Trails vs. Francis Parker.
Cross Country Rained Out at Morley Field
By Coach Jennifer Seymour
Cross Country made it one race into the Coach Downey Invitational at Morley Field before the meet was rained out on Friday.
Junior Varsity Boys completed their 5k race just before the storm hit. Junior Dorien Zhang was Bishop's top finisher, running a time of 21:35 over the 3.1-mile course. After the race, the team enjoyed some chilly bonding time while huddled under the canopy during the hail storm and downpour.
Our next competition is a Coastal League meet at UCSD on October 14.