The Locker Room: Oct. 27, 2021
Jen Jordan
Knights Booster Group Meeting Nov. 10
Knights Booster Group will hold the Winter Team Parent Meeting from 8:30 - 10 a.m. on Wednesday, Nov. 10 in the MBR. An open Knights Booster Group board meeting will follow immediately from 10 to 11:30 a.m.
Winter Sports Information
Upper school CIF winter sports officially start on Nov. 6. Tryout and start dates for each individual sport are listed here. Programs typically train or play four-to-six days a week during the season. Please email the head coach for more detailed schedule information because some programs will train over school breaks and holidays. All winter athletes must have a sports physical dated after June 1 and be cleared on athleticclearance.com to be able to participate in tryouts. Read the Athletic Clearance Directions for more information.
Girls' Volleyball Wins Third Consecutive League Title
By Al Gomez
The Knights put on quite a show in front of a packed house, beating Maranatha Christian in three sets (25-18, 25-13, 25-8) and securing a third Coastal League championship in as many years.

Prior to the match, seniors Brynne Faltinsky, Annecy Crockett, Ellen Li, Sofia Roberts and Ashley Sottosanti were recognized for their contributions to Bishop's volleyball program.

Nalani Muniz '24 connected early and often with her teammates, finishing the night with 35 assists. Sydney Bold '23 had 17 digs and two aces.

Brynne continued her dominance over the opposing blockers, ending the night with 17 kills. Crockett, Roberts, Li and Sottosanti combined for 15 kills.

Bishop's finished the regular season with a 24-9 record and earned the sixth seed in the Open Division. TheKnights will play No. 3 La Costa Canyon on Saturday, Oct. 30 at 5 p.m. Purchase advance tickets here.
Bishop's Surf Opens Season
By Coach John Nagler
After a season-long hiatus, Bishop's Surf returned in force to the Scholastic Surf Series on Oct. 24 at Mission Beach.
Conditions were prime for the surfers to test themselves, all of whom were competing for the first time. You wouldn't have known that watching the first heat though. Carl Murfey '25 and Fenton Daly '24 paddled out head first into head-high closeout sets, a defining feature throughout the day. Undeterred, the boys turned and charged as soon as they could. Fenton pulled into closeout barrel on his first go and Carl answered with a ripping right.
In the next heat, Bennet Chodorow '23 chalked up several nice waves while Aiden Khazeni '22 stole the show with a buzzer-beating left. It was unfortunate that our competition didn't show up because Bennett, Fenton, and Carl could have used some in their long boarding heat. While they were fearlessly charging, captain Rory Engh '23 was competing against the pros at the Return to the Reef contest in Cardiff. We look forward to having her and our water polo players at the next event on Nov. 14.
After sweeping the team competition, including Carl's first-place finish in body boarding, we moved into individuals. Fast forward six board-crushing heats later, Carl and Fenton both finished on the podium. Carl took third overall in body boarding while Fenton established his presence by winning third in short boarding.
A big thanks to parental support from the Khazenis, Dalys, Chodorows, and Murfeys, and way to go, surfers!
Girls' Tennis Competes in Coastal League Tournament
By Coach Matt Copland
Girls' Tennis competed hard at Coastal League Tournament. I took five players from our team and unfortunately, no players qualified for the CIF Individual Tournament.
Audrey Faber '25 lost in the quarterfinals to Kianna Black from Parker, 8-4 and in the back draw, she lost to Chloe Luna from Pacific Ridge 8-4 for fifth place. Madeline Luscomb '25 lost in the quarterfinals to Rebecca Blanchard of Parker 8-0 and in the back draw, had to play Audrey and lost 8-0.

In the doubles draw, we had two seniors participating: Saavi Banjeree and Emma Li. They lost in the quarterfinals to LJCD 8-2. In the fifth-place playoff, they fell losing to LJCD, 8-6.
This week, the team competes in CIF competition.
Cross Country has Strong Showing at Kit Carson
By Coach Jennifer Seymour
Cross country had a fantastic showing at the Kit Carson Invitational on Friday!
This is perhaps the hardest course of the season: a mostly-dirt trail with many long, steep hills.
Senior captain Maddie Cramer dominated the Varsity Girls (Black Division) race, finishing first overall by a 27-second margin! She completed the 2.75mi course in 16:55, beating 96 other girls in this race. The girls' team finished ninth out of 19 schools in attendance.
The boys competed on a slightly longer 3.05 mile course, and James Frerichs '22 (19:02), Joshua Lee '23 (19:08), and Steven Yin '24 (19:11) led the way for our team in a field of 130 varsity boys.
Our next meet is Thursday, Oct. 28 at UCSD versus the Coastal League.
Boys' Water Polo Plays Well in Busy Week
By Coach Doug Peabody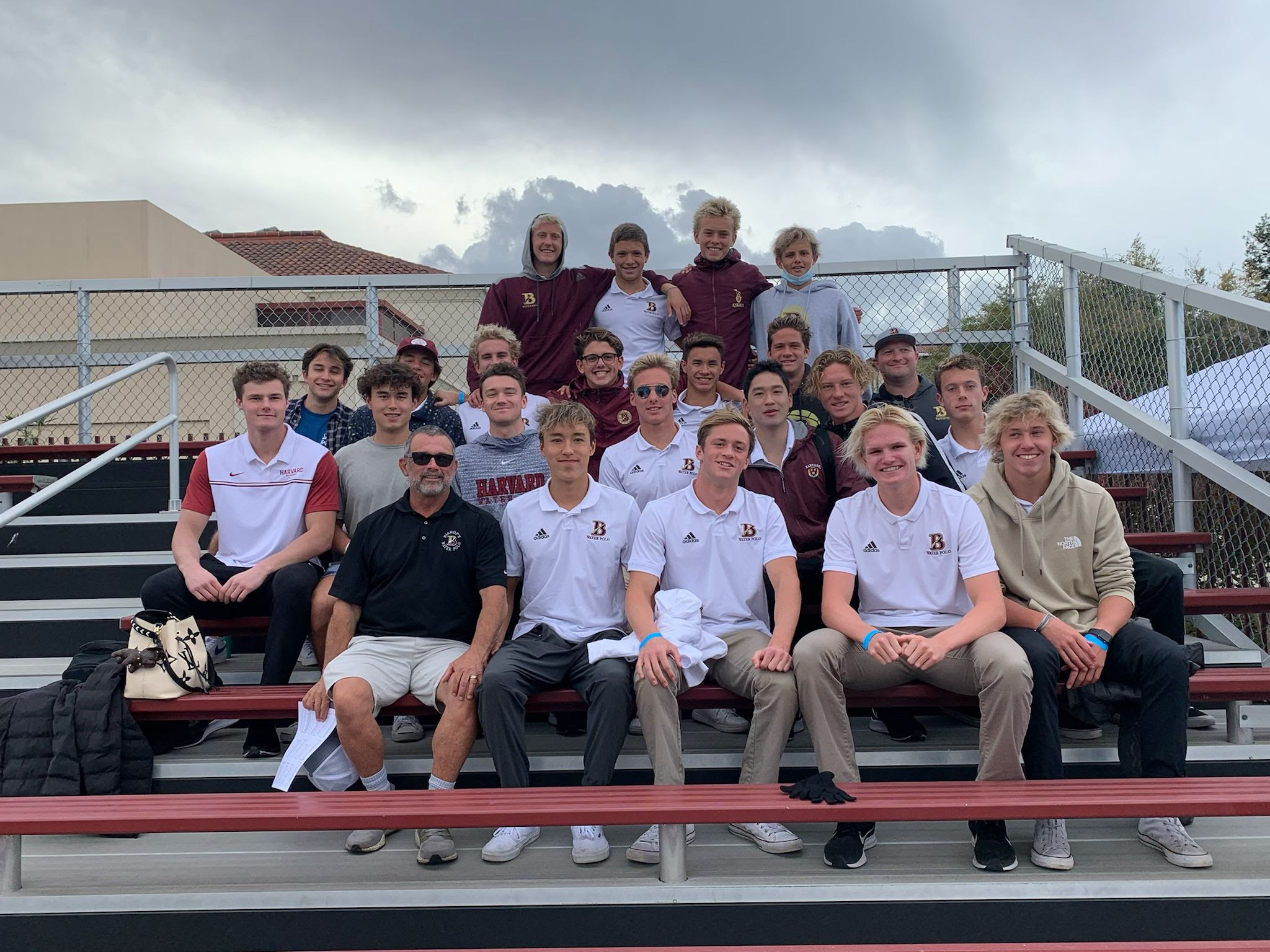 Boys' Water Polo had a busy week last week, playing five games starting off Tuesday, Oct. 19 with an 11-4 victory over La Jolla.
The Knights were led by seniors Garrett Johnson and Mark Stone. Garrett had four goals while Mark and junior Chase Landa scored two each. Three others scored: Alex Zarcu '23, Lukas Peabody '24 and Ethan Marquez '23. Both goalies were stellar in the cage with a combined 18 saves and a blocked penalty shot. Oliver Price '23 had 14 of those saves in three quarters of action, while Jaxon Leach '24 only gave up one goal in a quarter of work.
The boys left on Thursday evening to attend the Memorial Cup hosted by Bellarmine Prep in San Jose. Not only would the boys get to return to their greatest trip of the year, but they would also get to see some old teammates compete for their respective colleges. The boys were able to catch up with and watch alumni compete for their colleges. Jack Martin '21 (Stanford) was on hand to watch his younger brother Charlie '25 play. The boys also got to watch Max Keck '20 and Nathan Wu '19 (Harvard), Ford Eldredge '19 and Zach Fales '21 (Santa Clara), and Sam De La Cruz '20 (Air Force Academy). Other alumni in attendance at the Julian Fraser Memorial Tournament were Class of 2021 alumni Ben Kyrillos, Wes Spieker, Nick Arrowsmith and Kyto Fraley, and Phillip Richman '19.
The boys went 2-2 in the tournament, earning fourth place out of 15 teams. They started out strong against St. Francis, coming away with a 16-3 win. The team was led by Garrett's four goals. Chase, Mark and Yuto Fraley '23 each chipped in two goals. The team was led in assists by Chase (4) and Lukas (3). Yuto added two helpers. Other goal scorers with one each were Alex Zarcu, Alex Goldman '23, Ethan, Justin Stone '24, and Jackson Woolfolk '23.
In their next game, the Knights started off strong with a 8-2 halftime lead and turned that into a 13-5 victory. Garrett again led the way with three goals. Lukas got the Knights started with two of the first three goals of the game. Mark continued his steady play with a pair of goals. Alex, who is quietly having a great year, also scored two goals. Other goal scorers were Justin, freshmen Caspar Lightner and Charlie Martin. Oliver had six saves and Jaxon chipped in five of his own. Three players notched two assists each: Yuto, Lukas and Alex.
The boys advanced to the semifinals only to get crushed by eventual tournament champion Newport Harbor, 20-6. Jackson was the bright spot with a team-leading two goals. Oliver and Jaxon combined for eight saves.
In the third-place game, the Knights came out on fire, building a 6-2 halftime lead only to watch the game slip away late for a 10-8 loss to Orange Lutheran. The team was led by seniors Max and Mark Stone, and Alex Zarcu, who each had two goals. Garrett and Ethan combined for the other two goals. Jaxon led the team in the cage with nine saves, some of which were point-blank attempts. Oliver made three saves. Mark had two assists and Max made two steals.
The Knights currently sit at 17-9 with two league games to go.
Field Hockey Falls to La Jolla
By Coach Meg Carr
Field hockey lost 3-0 to La Jolla High School last week.
Senior Maggie Johnson had 10 saves with a couple of strong clears to put the ball into our attacking side. Lily Gover '24 and Bella Myer '22 helped lead the team with strong plays on the outside. Freshmrn Gabby Gaspar and Natalie Marvin stepped up to the plate to help transition our ball down the field.
Bishop's Rowers Represent at Head of the Charles Regatta
Three Bishop's seniors - Alek Navarro, Sebastian Navarro and Nihko Johnson-Newman - represented San Diego Rowing Club in the Head of the Charles Regatta, one of the largest regattas in the world, on Sunday, October 24.
They came in 20th out of over 85 boats - just seven seconds off the top 10 boats in the nation.
Go Knights!