The Locker Room: Nov. 3, 2021
Jen Jordan
CIF San Diego Section Digital Playoff Tickets
All CIF-SDS ticket sales will be done via GoFan mobile ticketing. Fans will not be able to pay with cash at CIF-SDS events.

Wednesday, Nov. 3
Boys' Water Polo vs. Carlsbad (Qtr. Finals)
4 p.m. at La Jolla High School
CIF Ticket Prices: $9 Adult / $6 Students

Thursday, Nov. 4
Girls' Volleyball vs. Westview
5:30 p.m. at Bishop's
CIF Ticket Prices: $11 Adult / $7 Student

Friday, Nov. 5
Football vs. Rancho Bernardo
7 p.m. at Rancho Bernardo High School
CIF Ticket Prices: $10 Adult / $6 Student

Purchase CIF Tickets on Bishop's GoFan.
Winter and Club Sports Spirit Wear Now Available
Spirit wear for winter and club sports is available to purchase now until Nov. 15! Click here to purchase spirit wear for winter sports. Click here to purchase spirit wear for club sports.
Boys' Water Polo Wins Western League Title
By Coach Doug Peabody

Boys' Water Polo closed out the regular season on a high note, winning the Western League title after a pair of wins against Coronado and La Jolla last week.
On October 26, Boys' Water Polo hosted Coronado for Senior Night to honor Seiji Ayala-Sekiguchi, Max Stone, Garrett Johnson and Mark Stone. The boys started out strong and kept thescoring going all the way to a 21-4 victory.
Max led the team in scoring with four goals and five other Knights had two goals apiece; Garrett, Justin Stone '24, Lukas Peabody '24, Mark and Caspar Lightner '24. The team shared the ball well with four players garnering multiple assists: Lukas and Justin with three, and Garrett and Yuto Fraley '23 with two apiece. We would like to send another shoutout to our seniors and their families for their amazing careers at Bishop's!
On Oct. 28, La Jolla came to the McCain family Aquatic Center with the Western League title on the line.
The game was packed with spectators from both schools cheering on their teams and the boys did not let them down. The game was incredibly hard-fought and came down to the last couple of minutes before it was decided. The Knights won the contest on a goal from Chase Landa '23 with 1:38 left in the final period.
Bishop's led early thanks to Max, who put up four goals in the first half, and Lukas, who had a goal and three assists in the first half en route to a 5-4 first-half lead.
The rest of the game turned out to be a nail-biter as each team held short-lived one- and two-goal leads throughout the game. Max scored four goals, Garrett and Chase scored two each, and Mark, Alex Goldman '23 and Lukas netted one each. Garrett and Lukas shared the team lead with three assists each. Oliver Price '23 and Jaxon Leach '24 were stellar in the goal with a combined 13 saves: Oliver had nine stops in three quarters of work while Jaxon made four saves in the second quarter.
The team starts CIF playoffs Wednesday, Nov. 3 at La Jolla's Coggan Pool, taking on Carlsbad High School at 4 p.m.
Girls' Volleyball Plays Westview in CIF Open Division Seeding Match
By Al Gomez
No. 6 Girls' Volleyball fell to No. 3 La Costa Canyon to open the CIF-SDS Open Division Tournament (20-25, 19-25, 21-25).

Brynne Faltinsky '22 and Kaia Grieve '24 had 10 and nine kills respectively. Seniors Annecy Crockett and Ashely Sottosanti combined for 13 kills.

Nalani Muniz '24 had 24 assists and Sydney Bold '23 made nine digs.

Bishop's plays Westview in a CIF Open Division seeding game at home on Thursday, Nov. 4 at 5:30 p.m.

All CIF playoff tickets must be purchased from the Bishop's GoFan account. Cash will not be accepted at thedoor. CIF Volleyball ticket prices are $11 for adults and $7 for students and seniors over 65.
Football Closes Regular Season with Pair of Wins
By Coach Kohl Simonds '12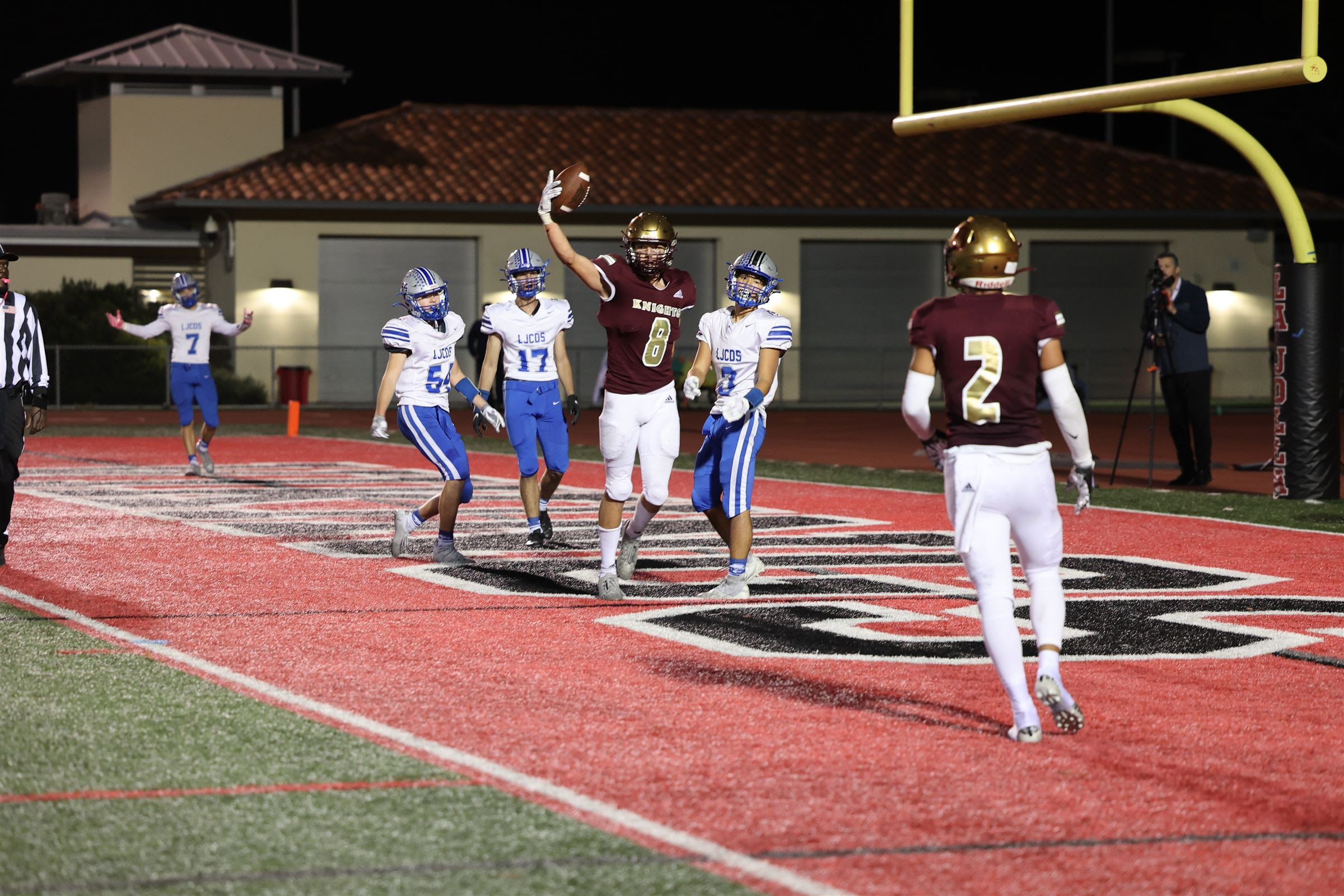 This year's Bish Bowl saw Knights Football win in resounding fashion, 47-28, over cross-town rivals La Jolla Country Day.
After stalling the Torrey offense on the opening drive, Ray Thornton '23 made several defenders miss on the way to the end zone to open the scoring. Hewitt Watkins '23 followed that with his first of two interceptions on the night, returning the first for a touchdown. The defensive touchdown put the Knights firmly in the lead - a lead they would not give up the entirety of the contest.
Along with a dominant defensive effort, including three sacks, Mike Houk '22 amassed over 100 yards rushing as well. The Knights offense collectively rushed for 299 yards in an imposing performance on the ground.
Football then wrapped the regular season on Oct. 29 with a resounding 35-7 win over the Orange Glen Patriots.
After giving up the opening score, the offense drove the length of the field in 10+ plays, resulting in Mike Houk '22 evening the score with a one-yard touchdown run. The opening drive was the only time the defense broke over the course of the night, allowing only seven points through four quarters. The offense tacked on a rushing touchdown by Dane Jorgensen '24, followed by a passing touchdown from Will Fierro '23 to Ray Thornton '23.
The defense took over scoring duties in the second half, led by two "pick-sixes" by Jaden Moore '23. A fourth quarter interception by Hewitt Watkins '23 put the cherry on top of a stellar performance by the Knights defense.
The Knights finished the regular season with an 8-2 record and will take on the Rancho Bernardo Broncos, at Rancho Bernardo High School, this coming Friday at 7pm. Roll Knights!
Girls' Golf Advances to CIF San Diego Section Finals
By Al Gomez


Girls' Golf is led by the defending CIF Individual Champion, Lucy Yuan '24. Lucy finished the first round with an impressive 67 (-5) at Bernardo Heights Country Club and is in second place heading into the final round.

As a team, the Knights have a ten-stroke lead over Mater Dei (Chula Vista).

Bishop's Top Scores
Lucy Yuan '24: -5 under par
Sophia Guan '24: 8 off par
Grace Sun '23: 9 off par

The Knights will play the CIF-SDS Championship round on Thursday, Nov. 4 at Omni La Costa Resort.
Girls' Tennis Concludes Season
By Coach Matt Copland
Girls' Tennis lost our first round match against Del Norte 15-3. We were in the Open Division, playing the top eight teams. We were the fifth seed matched up against the fourth seed Del Norte.
Unfortunately, we did not have our top player, and we were swept in the singles 9-0. The players gave their best but were overmatched.
In doubles, Claire Zhao '22 and Kylie Larson '24 won two out of three sets. In their first two sets, they were dominant, winning 6-1 in both. The set they lost was competitive and decided by one break of serve, 6-3.
The only other set we won came in the final round. I subbed in Emmie Kao '25 and she played with Clare Malhotra '22. They played the number-three doubles team from Del Norte, winning a closely-contested set, 6-4.
Overall, it was a good season and next year should be exciting!
Cross Country Competes in Coastal League Meet
By Coach Jennifer Seymour
On Oct. 28, cross country competed in our second Coastal League meet, against six other schools. The three-mile course wound through UCSD's campus dirt trails and eucalyptus groves.
Freshman Jacob Cravatt had a breakout race, finishing in 19:05 as our second fastest boy behind senior James Frerichs (19:01).
The girls' team was battling a reduced roster due to injuries, but still ran strong times. Senior Maddie Cramer led the way for us and placed second overall (19:08).
We have a week off, then compete at the Coastal Conference Finals on Friday, Nov. 12.
Field Hockey Falls Against Tough Competition
By Coach Meg Carr
Field Hockey lost to the top two teams in the county last week.
The team played Canyon Hills in the rain on Oct. 25 and lost 11-1. However, the team did not let down, with Lily Gover '24 scoring a goal late in the fourth quarter. Senior Maggie Johnson had a record total of 21 saves in the game, shutting out Canyon Hills in the fourth quarter.
On Oct. 28, the team fell to Scripps Ranch 4-0.