The Locker Room: May 4, 2022
Jen Jordan
News
Watch the recording of Transition to Upper School Athletics on April 28, 2022 here, and review the slides here.
Save the Date: BESPYS on May 31
The Bishop's Athletics Department invites all upper school athletes and parents/guardians to the first annual BESPYS awards celebrating our upper school varsity athletes. Think the ESPYS with Bishop's flair. The maroon carpet rolls out May 31 from 5 - 7:30 p.m. on campus. Light refreshments. A-game attire.
Bishop's Spirit Wear by Lululemon
Bishop's Spirit Wear by Lululemon is now available online. Please click the link to access the latest Bishop's apparel from Lululemon.
---
Recaps
Boys' Tennis Finishes Second in CIF-SDS Tournament
Bishop's Boys' Tennis defeated Torrey Pines 15-3 at home to advance to the CIF Open Division championship, ultimately finishing second in the San Diego Section tournament to Canyon Crest Academy.
We started out the week as the top seed, so we had a home match against La Jolla High for the quarterfinals. We played a strong match, winning 14-4. In singles, Rex Harrison '23 and Tyler Li '24 won all three of their sets without dropping a game. In doubles, we won six out of nine sets, but were unable to beat their strong number-one team in any sets. It was a good team performance where all the players had a chance to contribute.
In the semifinals, we faced Torrey Pines for the second time this season.
Earlier in the year, they got the better of us, 10-8. But on this day, our team came out firing and after the first round, we had a 5-1 lead. Rex beat their number one 6-3 and all our doubles teams won with the closest set being 6-3 from Carlton Schell '24 and Alex Balog '24 against their number one team. After the second round, we had won the match. We won all six sets, sweeping singles and doubles. The most notable wins were Tyler beating their number one 6-4, and Nicholas Liu '22 and Eddie Qiao '23 won 6-3 over their number one doubles team. Entering the final round, the team score was 11-1 so I subbed in three new singles players. The best performance came from Jasper Jain '23, winning 6-1 against one of Torrey Pines' subbed-in players. We went on to sweep the last round of doubles, taking all nine sets for the match. The final team score was 15-3 and this was my first victory over Torrey Pines since I took over coaching at Bishop's in 2010!

In the finals, we faced off against CCA for the second time this season. We won the earlier match, but this match turned out to be much tougher.
After the first round we trailed 4-2; we lost a tight match at line three doubles but we had good wins from Rex in singles, and Aden Dorros '23 and Matthew Carioscia '25 at line two doubles. In the second round, we quickly found ourselves down 6-2, losing two sets when their number one singles and doubles teams beat our number threes. Tyler secured a set for us, beating their number three, and Aden and Matthew beat their number three doubles team to bring the match back to 6-4 with two sets left. Carlton and Alex then lost a tight match to their number two doubles team 6-4. But the most dramatic match came with Rex losing to their best player 7-6(4). He came back from 5-2 down and saved match points at 6-5, before having a 4-3 lead in the tiebreak denied by some great play by his opponent to lose 7-4.
In the final round, doubles had started earlier and CCA won two quick sets to secure the victory. But the singles started their rotation so CCA subbed in three seniors, and we made three changes to give our team some more experience. Jasper won again after being subbed in with a strong performance 6-4. The last doubles match was very contested, and Alex and Carlton managed to hold on 7-6(8) to make the final team score 12-6 in CCA's favor.
We had a great season but came up a little short. On May 20, we represent San Diego at regionals and we look to learn from this finals performance and go further.
Swim Wins Individual Championships at Conference Meet
By Coach Chad Salley
Bishop's Swim had impressive results at the City Conference swim meet, taking home conference championships in five races.
La Jolla High School was the host and their pool proved to be fast. Julia Bonaguidi '23 won the 100 free with a time of 54.06. Classmate Kate Steinmeier took first place in the 100 breaststroke with a 107.37. The girls took third place in the 200 medley, 200 free and 400 free relays.
The boys won the 200 medley relay with a time of 1:35.29. Greyson Davies '22, Callum Bolitho '24, Caspar Lightner '25 and Lucius Brown '22 comprised the winning relay. Greyson also took first in the 100 backstroke (50.75). The 400 free relay of Lucius, Yuto Fraley '23, Caspar and Greyson took first place with a fast time of 3:10.02.
Bishop's Swim looks to carry this great momentum to CIF-San Diego Section Championships at Granite Hills High School. The championships are held Thursday, May 5 and Friday, May 6.
Track and Field Places in Top Five at League Cluster Meet
By Coach Yvette Davis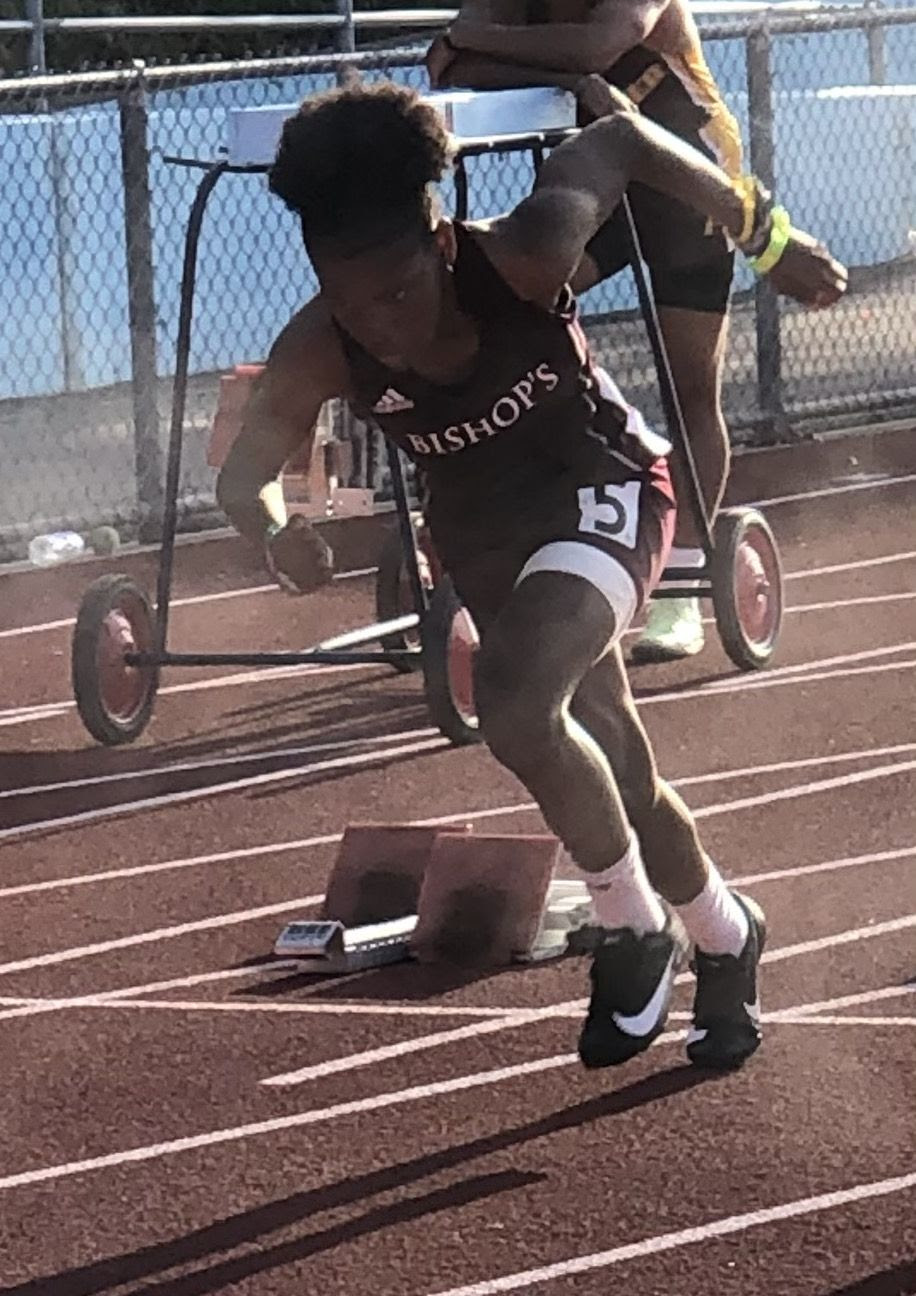 Fueled by 4x400-meter relay wins and individual victories, Bishop's Track and Field competed in the league finals on Thursday, April 28. There were 24 personal records broken and two season-best performances.
Setting personal best for the boys were Jack Pierce '25 (100M - 12.6) and 200M (26.00), Paul Madany '22 (100M - 11.58 and 200M - 23.4), Naveen Vemulapalli '25 (400M - 59.59 and 800M - 2:04.26), Jay Udinski '23 (800M - 2:04.26), Jonas Pfefferman '24 (1600M - 5:51.63), Jacob Cravatt '25 (3200M - 10:58.05), Steven Yin '24 (3200M - 11:18.48), and Joshua Lee '23 (3200M - 11:18.68). Zayd Aslam '23 ran a season best in the 400M (57.8) for a season record. The boys' 4x400M relay team of Paul, Jay, Tayshawn Taylor '24 and Xavier Rodriguez '23 ran an impressive 3:34.57, breaking their personal best time by 24 seconds.
Posting personal best distances in the shot put were Seth Pintar '24 (26'4.25"), Steven Yin '24 (26'00"), Rohan Laurent '24 (24'7") and Joshua Lee '23 (21'9.5"), who improved his distance by almost six feet. Adding to the field events, Eric Chen '24 had a personal best in the long jump (16'6.25"), improving by over a foot.
Setting personal best records for the girls were Malaya Taylor '25 (100M - 12.55), Isabella Combs '25 (200M - 29.46 and 400M - 1:07.47), Michelle Lai '22 (400M - 1:07.76) and Selena Wang '25 (1600M - 7:35.47). Lai also posted a season best in the 200M (29.51). Thrower Emily Yang '24 set a personal best in the discus (71'10"), improving by almost five feet.
Placing in the top eight to lead the boys to finish fourth overall was Xavier (second in 100M and third in 200M), Tayshawn (seventh in 100M and eighth in 200M), Paul (fifth in 200M and sixth in the 100M), Zayd (sixth in 400M), Jay (third in 800M), and Jacob, Steven and Joshua placing fourth, sixth and seventh in 3200M. The relay team of Paul, Xavier, Jay, and Tayshawn won the 4x400M relay.
Winning their events were Malaya (100M), Maddie (200M and 400M), and the 4x400M relay team of Lexi, Maddie, Michelle and Isabella. Also placing in the top eight for the girls were Katelyn Wang '23 (fourth - 100H), Isabella (third - 400M), Lexi (sixth - 400M) and Michelle (seventh - 400M).
Bishop's begins the road to CIF State Championships as they compete in the conference finals on Thursday, May 5 at University City High School. The winner of each event, as well as anyone who meets CIF qualifying standards, will advance to the CIF prelims next week. Let's go Knights!
Knights Score Late to Beat the Lancers
By Coach Al Gomez
Bishop's scored four runs in the bottom of the sixth inning to beat Parker 10-7 on April 27.
The Knights got things going with a leadoff double from Jayla Stafford '25 (3-for-4, two doubles, three runs) and an RBI single from Maggie Johnson '22 (1-for-4, one run, one RBI). Jackie Cosio '22 had a three-hit day for the Knights (3-for-4, two runs, one triple, one double, two RBI).
Senior Soyoon Park drove in the winning runs in the sixth inning (3-for-4, three runs, one double, three RBI).
Mia Bravo '24 pitched a complete game, striking out four Lancers.
Baseball Wins Thriller on Senior Day
By Coach Bryan Santy
Varsity baseball won a thriller on Senior Day, beating Sante Fe Christian 3-2.
Senior Hunter Kates once again was fantastic, throwing a complete game and allowing only two earned runs.
Offensively, the Knights were led by seniors Bode Grieve, who knocked a solo home run, and Rhett Larocca, who hit an RBI double.
It was the finest showing of the year for the Knights defense, who sparkled all day, making no errors and working quickly and efficiently behind Kates. Jack Castagnola '23, Henry Armstrong '25 and Julian Tang '22 also tallied hits for the Knights.
Girls' Lacrosse Heads into Final Week of Regular Season
By Coach Meg Carr
Varsity girls' lacrosse is 12-5 as we head into the last week of regular season play.
On May 2, we beat Pacific Ridge 17-4.
Both Natalie Marvin '25 and Erika Pfister '23 added six goals apiece in the game. Alex Pfister '25 and Jordyn Mariam '23 also hit the net numerous times for goals. Senior captain Yasmin Henderson assisted a goal to freshman Kendall Kearney. Tate Vaccaro '22 and Laine Jeffery '25 led the defense with multiple turnovers and ground balls that successfully transitioned the ball to our attack. Senior Zen Greene had three saves.
Last week, the team lost a close game to Francis Parker, 15-13.
Boys' Lacrosse Ranked No. 2 in County
By Coach Steve Sepeta
Last Thursday, varsity boys' lacrosse lost their first game of the season to Santa Fe Christian, 8-5.
Casey Ryan '23 led the scoring with two goals, followed by Nick Marvin '24 with two goals and Hewitt Watkins '23 with one goal. Eddie McElroy '25 had nine saves in the cage.
The team bounced back on May 3, defeating Coastal League opponent Pacific Ridge 19-3. Point leaders were Casey with two goals and five assists, Brooks Rodger '24 with four goals and three assists, Colin Fagan '24 with three goals and two assists, and Nick Marvin '24 with five goals.
The team is currently 17-1 and ranked No. 2 in San Diego County. The final regular season game, our senior night, is a huge rematch against Santa Fe Christian on Thursday, May 5 at 5:30 p.m. Come out and get loud!
Boys' Volleyball Geared Up For The Playoffs
By Coach Kevin Pratte

Bishop's Varsity Boys' Volleyball is 9-1 in their last 10 matches and is heating up at the right time. For the opening round, they will face Helix High School.
The theme for the season has been "unfinished business." In 2021, Helix beat the Knights in the second round of Division II playoffs.
"We are thrilled with our draw in the Division I CIF playoffs and can't wait to play Helix," says senior captain Logan Howard. "Our squad has been thinking about this match for over a year. We have some unfinished business to take care of."
Last week, the Knights finished the regular season with a win against Santa Fe Christian.
Before the match, the seniors were honored and all of them appeared in the match. "I have truly enjoyed playing on the boys' volleyball team at Bishop's," says senior captain Ryland Birchmeier. "It is arguably the best experience I have had at this prestigious school."
JV Boys' Lacrosse Earns Silver at Tournament
Congratulations to Bishop's Boys' Junior Varsity Lacrosse for advancing to the championship game in the JV Roundup Tournament this weekend!
The Knights lost in overtime to Westview.
Silver medal is incredible for a team where half the boys had never even picked up a lacrosse stick before this season!
Sohan Venkat '25 is Gymnastics National Champion
Sohan Venkat '25 had an incredible showing at the 2022 USA Gymnastics Men's Development Program Western National Championships, held April 29 - May 1 in Reno, Nev.!
Sohan won the high bar and finished second in the Level 7 Junior division in the all-around and rings.
Congratulations, Sohan!