The Locker Room: May 18, 2022
Jen Jordan
News
Final transcripts for all grade levels will be uploaded in the NCAA Eligibility Center portal by the end of June. If you have any questions, please reach out to your college counselor.
BESPYS Athletics Awards Event on May 31
Bishop's Athletics invites all upper school athletes and parents/guardians to the first annual BESPYS awards celebrating our varsity athletes. Knights Awards and other athletic awards will be presented that evening. Think the ESPYS with Bishop's flair. The maroon carpet rolls out May 31 from 5 - 7:30 p.m. on campus. Light refreshments. A-game attire. RSVP here.
Summer Strength and Conditioning for Bishop's Students
This summer, Bishop's Athletics is offering our strength and agility program to all enrolled students in grades 6-12. In supporting Bishop's Strategic Plan with a focus on student wellness, this summer strength and conditioning program is free to all Bishop's students.

The Knights Strength & Agility Program is designed to help student-athletes in grades six through twelve improve their overall athleticism. A series of functional exercises, speed training and conditioning drills are matched together to emphasize strength, speed, agility, flexibility and endurance, benefitting any student regardless of their sport or activity. The program also emphasizes balance, stability, coordination, reaction time and explosive power.

Morning and afternoon sessions will meet for 90 minutes per day, three days per week, in the Coleman Family Health and Fitness Center and on Hunte Fields at the Fowler Athletic Complex on Bishop's campus.
Registration closes on June 1 so we can adequately staff the program. If you have multiple students at Bishop's, please fill out the form separately for each student. Sign ups after June 1 will be put on a waitlist pending available facility space.

All students participating in the summer program must have a signed medical consent form turned in the first day they attend training. The medical consent form will be emailed out prior to the start of the program.
Register here. For more information, contact Charles Johnson at (858) 875-0779.
---
Recaps
Boys' Lacrosse Heads to CIF Finals
By Coach Steve Sepeta
After big wins over Poway and Cathedral Catholic, varsity boys' lacrosse advanced to the CIF Open Division finals on Saturday, May 21.
Last Thursday, the Knights defeated Poway in the CIF Open Division quarterfinals, 9-6.
The scoring was led by Casey Ryan '23 with two goals and three assists, Hewitt Watkins '23 with two goals and two assists, and Nick Marvin '24 with two goals and one assist. Jack Hertz '22 and Dane Jorgensen '24 each caused three turnovers and Eddie McElroy '25 had 12 saves, stopping 67 percent of shots on goal.
On Tuesday, the Knights defeated Cathedral Catholic in the CIF Open Division semifinals, 18-4.
The scoring was led by Casey with two goals and five assists, Brooks Rodger '24 with five goals and one assist, Nick with four goals, Hewitt with three goals and one assist, and Jackson Landa '22 with three goals (aka "a Hatty for Patty"). Colin Fagan '24 won 59 percent of his face offs and picked up 11 groundballs, Michael Houk '22 caused three turnovers, and Eddie made eight saves, again stopping 67 percent of shots on goal.
The team is now 20-1 and is set to play Torrey Pines in the CIF Open Division finals Saturday, May 21 at 5 p.m. at Del Norte High School. We really love and appreciate all of the fan support that we have received so far. We need everyone to show up and get louder than ever this Saturday.
Go Knights!
Girls' Lacrosse Advances in CIF Playoffs
By Coach Meg Carr
After two big wins in the postseason, girls' lacrosse is off to the semifinals this Wednesday (today) at Bishop's!
The first win, a 14-10 victory, came against Mission Hills last week.
Erika Pfister '23 had five goals with one low behind-the-back shot. Natalie Marvin '25 scored four goals and Jordyn Mariam '23 had three goals. Both Nicola Xanthapoulos '23 and Alex Pfister '25 had a goal apiece. Nicola was on fire in the midfield with five groundballs and two draw controls. The attack created a much-needed stall with three minutes left to secure the win.
On Saturday, the team upset No. 3 seed Patrick Henry 10-9.
It was all about team defenses and possession in this game. Senior Zen Greene had nine saves with one crucial save in the last two minutes of the game, which gave us a chance to score and keep the ball in our possession to clinch the win. Tate Vaccaro '22, Laine Jeffery '25, Lexi Black '24 and Nicola led the defense with cross-field transitions. Erika had three goals and Alex had two. Senior Yasmin Henderson was critical in her redefining with three groundballs.
Natalie hit the final goal and put us ahead, as that was one of her game's five goals. With 40 seconds left on the clock, Jordyn was essential in getting the ball out of the defense to senior Sara Hamadeh, and we were able to keep possession of the ball to secure the win.
Track and Field Advances to CIF Section Finals
By Coach Yvette Davis
Track and Field had its end-of-the-year banquet to express our appreciation, leadership and commitment of our seniors. We celebrated with food, laughter, gifts and fun. Several teammates and coaches expressed the contributions they made over the years to the sport and the support and care they showed to everyone. Thank you Paul Madany, Maddie Cramer, Michelle Lai and Kyle Perlman! We love you and wish you the best.
We are extremely proud of our Knights who competed on Saturday, May 14, at Mt. Miguel High School for a spot in the CIF-San Diego Section Finals this week.
Through the scorching weather conditions, nine athletes advanced to CIF-San Diego Section finals in eight events. This is the final meet to move on to the State CIF meet in Fresno next week.
Nine of the athletes advanced to take the track in six individual events and two relays on Saturday, May 21 at Mt. Carmel High School.
Taking the track for Bishop's will be:
Event

Place

Time

Girls

Maddie Cramer '22

200M

800M

4 x 400M relay

6th

1st

1st

25.70

2:20.03

4:16.70

Malaya Taylor '25

100M

200M

4 x 400M relay

5th

7th

1st

12.60

26.18

4:16.70

Michelle Lai '22

4 x 400M relay

1st

4:16.70

Lexi Houk '23

4 x 400M relay

1st

4:16.70

Boys

Xavier Rodriguez '23

100M

200M

4 x 400M relay

5th

2nd

1st

11.27

22.01

3:34.57

Jay Udinsky '23

800M

4 x 400M relay

7th

1st

2:04.29

3:34.57

Paul Madany '22

4 x 400M relay

1st

3:34.57

Tayshawn Taylor '24

4 x 400M relay

1st

3:34.57
Lexi and Paul are alternates for the 800M and 400M, respectively. Send your best wishes to these athletes as they compete this weekend. Go Knights!
Softball Concludes Season with Win
By Coach Al Gomez
Bishop's Softball closed out the 2022 season with a 16-5 win over Parker.
The Knights' offense was led by Maggie Johnson '22, who went 4-for-4 with a home run and six RBIs. Seniors Jackie Cosio and Soyoon Park collectively had four hits and drove in five runs.
Jayla Stafford '25 finished the game going 4-for-5 with a triple, double, and three RBIs. Freshman Sydney Chan went 4-for-4 with three runs scored.
Mia Bravo '24 pitched a complete game, striking out four and giving up two earned runs.
Coastal League Softball Honors
First Team - Jackie Cosio '22, Jayla Stafford '25
Second Team - Soyoon Park '22, Mia Bravo '24
Boys' Volleyball Falls in Five-Set Thriller at CIF Finals
By Coach Kevin Pratte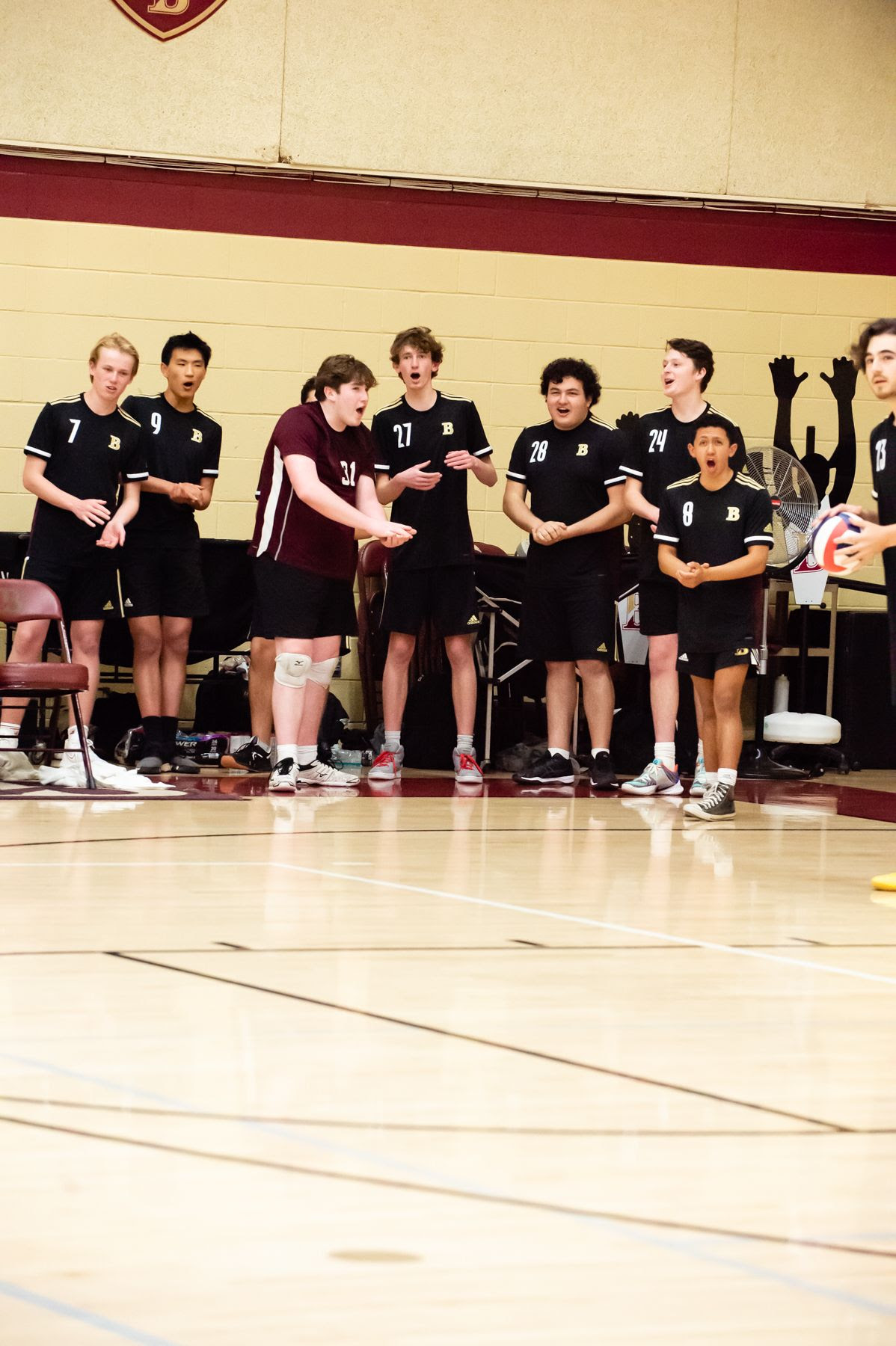 In the CIF Division I Finals, varsity boys' volleyball traveled to Mission Hills High School to take on Francis Parker. The match went five sets with the Knights losing 14-16 in the fifth set.
During the match, the Knights were led by seniors Ryland Birchmeier, Sam Gal, Stephen Marren, and Nicky Clotfelter and juniors Jameson Vaccaro, Greyson Goldberg and Eli Browne.
"Throughout the whole season, the goal was to make the CIF finals," says senior captain Logan Howard. "We had an interesting journey to make the finals. During the season, we always had faith and focused on peaking at the right time."
During the match, there were some incredible digs, sets, serves, blocks and aggressive hits. "I am extremely proud of Bishop's Boys' Volleyball," says head coach Kevin Pratte. "It is safe to say that we have arrived and are a top-ten boys' volleyball program in San Diego. This is something that our program and Bishop's volleyball community is proud of."
The theme for the 2022 season was unfinished business after the 2021 Knights suffered a playoff loss to Helix. During the 2022 season, the Knights beat Helix and got to the CIF finals. The 2023 theme is WHY NOT US! Someday, we'll go all the way.
Boys' Tennis Competes in CIF Individual Tournament
By Coach Matt Copland
Last week, Aden Dorros '23 lost in the final of the CIF Boys' Tennis Individual Tournament to the No. 1 seed from Canyon Crest Academy 6-3, 6-4.
In the semifinals, he upset the number two seed from Del Norte High School 6-4, 6-0. He held his seeding of number three, beating another player from CCA 7-6, 6-4. For his first two matches in the round of 32 and round of 16, he only dropped one game. It was a very successful tournament for him to top off a good season!
In the doubles draw, sophomores Carlton Schell and Alex Balog won their first match in the round of 32 against a team from Cathedral Catholic. They came back from a slow start, falling behind 4-0, then 5-1 before taking the first set 7-6(10). The second set was a little more straightforward at 6-2.
In the round of 16, they lost to a tough team from CCA 6-3, 6-2. They made it competitive but just weren't able to capitalize enough when they got their opponents in difficult positions.