The Locker Room: May 11, 2022
Jen Jordan
Boys' Lacrosse Wins Coastal League Championship
By Coach Steve Sepeta
Last Thursday on Senior Night, varsity boys' lacrosse made things right by defeating Santa Fe Christian, 10-9.
The scoring was led by Nick Marvin '24 with three goals and one assist, followed by Brooks Rodger '24 with three goals and one assist.
Casey Ryan '23 dished out three assists and Hewitt Watkins '23 netted two goals.
Other major difference makers were Colin Fagan '24, who won 41 percent of the faceoffs, and Jack Hertz '22, who had 11 groundballs and five caused turnovers.
The team finished the regular season with a record of 18-1, a Coastal League co-championship and ranked No. 2 in San Diego County.
We host No. 7 Poway in the CIF Open Division quarterfinals Thursday, May 12 at 5 p.m. The fan support was incredible last week, and the boys need your support again this week. Be there and be loud!
Boys' Volleyball Advanced to Semifinals in CIF Division One Playoffs
By Coach Kevin Pratte

Boys' Volleyball won two playoff games last week to advance to the CIF Division 1 CIF semifinals.
On Tuesday, May 3, the Knights traveled to eighth-ranked Helix High School. The Knights came out on top in four sets. During the match, seniors Ryland Birchmeier, Logan Howard and Greyson Goldberg, and junior Eli Browne led the way.
"Last season, we lost to Helix, so it was extremely rewarding to beat them in the 2022 season," says senior captain Sam Gal. "We had some unfinished business to take care of."
After the victory against Helix, the Knights traveled to Canyon Crest Academy, which was ranked No. 1 in the CIF Division I tournament. The Knights lost 23-25 in the first set and made a few adjustments to the lineup. With Jameson Vaccaro '23, Ryland and Greyson on the pins, the Knights' offense was unstoppable. During the match, there were key blocks from seniors Stephen Marren and Garrett Johnson. Check out highlights from KUSI here.
"Through this year, we have incorporated many different lineups," says senior captain Logan Howard. "It was fun to see that many of my teammates contributed to our win tonight. Beating Canyon Crest is a great feeling, but we are not done yet. The goal is to beat La Jolla and head to a CIF final."
The Knights hosted La Jolla High School on Tuesday, May 10, beating the Viking 3-0. The Knights play Parker in the CIF Division I finals Friday, May 13 at 7:30 p.m. at Mission Hills.
Swim Finishes Third at CIF Meet
By Coach Jim Jordan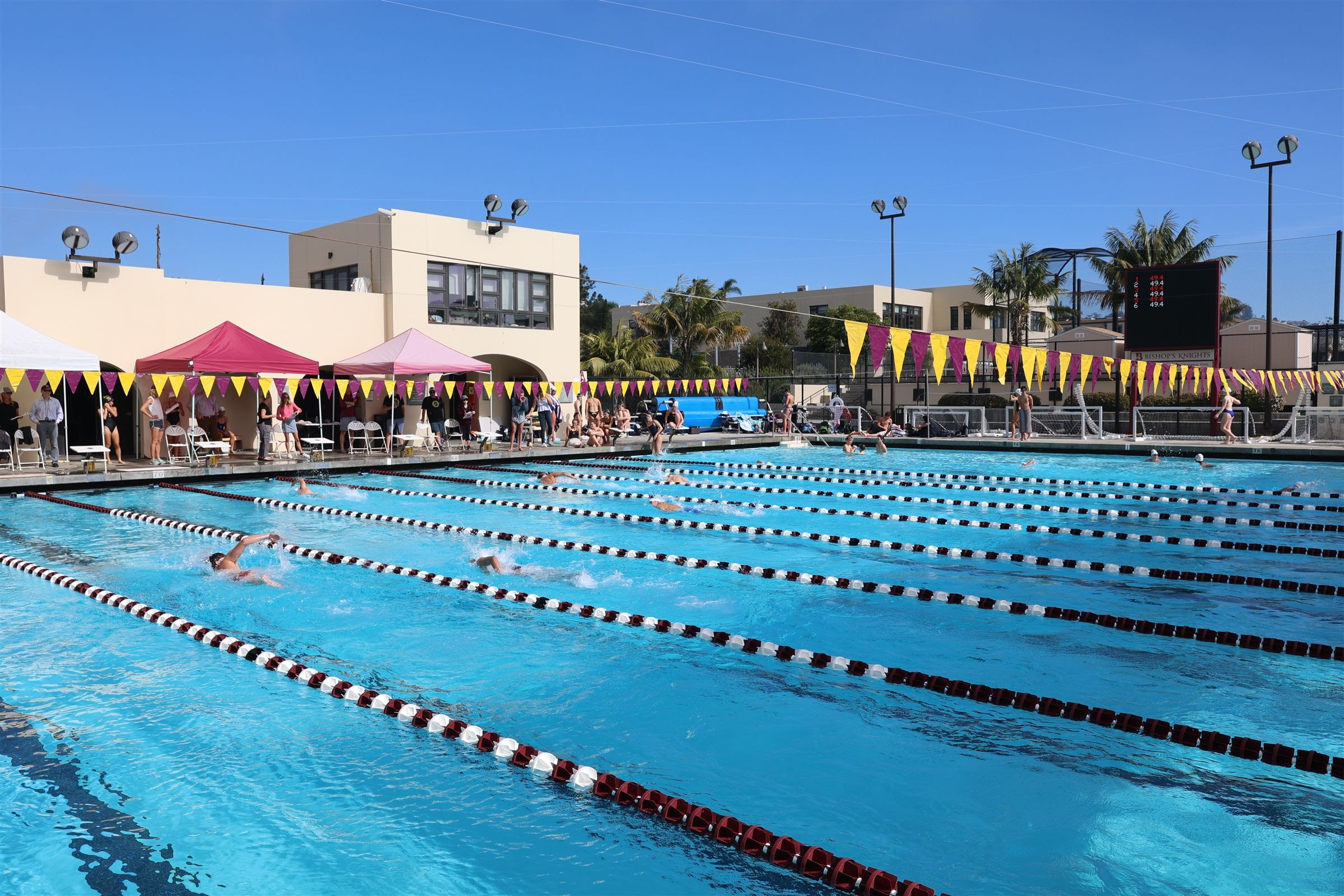 Bishop's Swim had an amazing CIF meet on Saturday afternoon at Granite Hills High School. In the combined team scores, Bishop's was third with 410 combined points.
Through the course of finals, Bishop's swimmers set five new school records, and earned four automatic All-American cuts and two more consideration All-American cuts. The teams also won CIF Championships in six different events (and there are only eleven events contested in the meet.) The girls' team finished the evening in sixth place overall (160 points) and the boys' team finished in third place overall (250 points).
On the boys' side, both Greyson Davies and Lucius Brown won four gold medals, as they each swept their two individual events and swam on two winning relays.
Greyson led off the 200 medley relay, and along with Callum Bolitho '24, Caspar Lightner '25 and Lucius, the quartet nabbed gold in a consideration All-American time of 1:33.48. The quartet of Yuto Fraley '23, Caspar, Greyson and Lucius won the 400 freestyle relay in 3:06.65, also a consideration for All-American time.
Greyson won the 100 butterfly in 48.67 and the 100 backstroke in 49.37. Both times were automatic All-American times; Greyson also broke the 100 butterfly school record, previously held by Mason Morris '21.
Lucius countered with two new school records of his own in the sprint events, both times achieving automatic All-American status. His 50 freestyle time of 20.02 was a new San Diego Section record, and he just missed becoming the first swimmer in San Diego history to crack the 20-second barrier. His 100 freestyle time of 44.65 tied the Division 2 San Diego Section record and also broke the school record (previously held by Pierce Dietze '19).
Other points were scored by the boys' 200 free relay team of Caspar, Justin Korn '22, Justin Stone '24 and Yuto, who were sixth in the relay. Callum took seventh in the 100 breaststroke and tenth in the 200 IM, Yuto was sixth in the 200 free and a seventh in the 100 free, Caspar was sixth in the 100 backstroke, and Garrett Johnson '22 was tenth in the 500 freestyle.
On the girls' side, the team was led by junior Kate Steinmeier, who set two new school records in her events. Kate took fourth in the 200 IM in 2:08.34, bettering the previous school record (held by Catherine Gordon '02). She also took a silver medal in the 100 breaststroke in a new school record of 1:05.96. The previous record was held by Sam Allen '11.
Junior Julia Bonaguidi took ninth in the 50 freestyle and sixth in the 100 freestyle. Sofia Holman '24 was ninth in the 200 free and tenth in the 100 backstroke. Junior Camille Greenlee was right behind her teammates in her events, finishing eleventh in the 200 free and eleventh in the 100 free.
The girls' relays also excelled in the meet. The 200 medley quartet of Sofia, Kate, Macy Haro '23 and Julia finished in bronze medal position, dropping an incredible four seconds from their preliminary time and narrowly missing the school record. In the 400 freestyle relay, Julia, Camille, Sofia and Kate took fourth place with super-fast splits across the board. Finally, the 200 freestyle team of Macy, Lisbon Zeigler '23, Maddie Cayer '22 and Camille won the consolation final and dropped more than a second from their preliminary time.
Bishop's swimmers were the most loyal fans for their teammates throughout the meet, with special recognition to senior captain Maddie Cayer, who led the team cheers throughout the day.
Knights Advance to CIF Track and Field Prelims
By Coach Yvette Davis
Bishop's will be well represented at the 2022 CIF Track and Field Preliminary Meet this weekend.
Ten runners advanced in 13 individual events and both boys and girls 4x400-meter relay teams qualified to compete at Mt. Miguel on Saturday, May 14.
Several of the athletes also posted personal records (PR) and season records (SR). In addition, senior Maddie Cramer (or should we say "Flamer") set a conference record in the 800M. Maddie was also selected by all coaches as the Female Track Athlete of the Meet. Congratulations, Maddie!
Heat winners plus the next fastest six from any heat qualify for Section Finals. In the relays, the heat winners plus the next fastest seven qualify for Section Finals. In the 800- and 1600-meter races, the top two in each heat plus the next fastest five from either heat will qualify for Section Finals. The San Diego Section Finals will be held May 21 at 9 a.m. at Mt. Miguel High School.
Advancing for the girls are:
Maddie Cramer '22: 800M – 1st – 2:13.02 (Coastal Conference Record); 200M – 2nd – 25.62 (SR); 4x400M Relay – 1st – 4:15.43 (SR)
Malaya Taylor '25: 100M – 1st – 12.57; 200M – 3rd – 25.91 (PR); 4 x 400 M Relay – 1st – 4:15.43 (SR)
Lexi Houk '24: 800M – 5th – 2:30.22 (PR); 4x400M Relay – 1st – 4:15.43 (SR)
Michelle Lai '22: 4x400M Relay – 1st – 4:15.43 (SR)
Isabella Combs '25: 400M – 5th – 1:07.53
Katelyn Wang '23: 100H – 6th – 19.26 (PR)
Though she barely missed the qualifying mark, Emma Madany '24 set a personal record in the discus with a throw of 68'10".
Advancing for the boys are:
Jay Udinsky '23 800M – 2nd – 2:03.74 (PR); 4x400M Relay – 1st – 3:31.44 (SR)
Paul Madany '22 400M – 3rd – 52.48 (SR); 200M – 7th – 23.73; 4x400M Relay – 1st – 3:31.44 (SR)
Xavier Rodriguez '23 200M – 2nd – 22.39 (PR); 100M – 3rd – 11.09; 4x400M Relay – 1st – 3:31.44 (SR)
Tayshawn Taylor '24 100M – 7th – 11.53 (PR); 200M – 8th – 24.00 (PR); 4x400M Relay – 1st – 3:31.44 (SR)
We are extremely proud of the conference finals performance and are excited to see what is yet to come. Everyone is welcome and encouraged to attend the meet at Mt. Miguel on Saturday, May 14 at 9 a.m. Go Knights!
Girls' Lacrosse Closes Regular Season
By Coach Meg Carr
Girls' Lacrosse finished their regular season 13-5 with a big win last Thursday on Senior Night. The Knights beat Del Lago 18-3.
Nine different players scored. Seniors Tate Vaccaro and Sarah Hamadeh each scored, with classmate Yasmin Henderson scoring two goals.
Senior goalkeeper Zen Greene had three saves and got a taste of field play late in the game.
Sophomores Peyton Seltzer and Lexi Black each got a goal, as well as junior Jordyn Mariam. Freshmen Alex Pfister and Natalie Marvin each had three or more goals. Junior Erika Pfister had four goals and four assists.
The team is ranked No. 6 in Division I and plays at Mission Hills Wednesday, May 11 at 5:30 p.m.
Baseball Beats Orange Glen
By Coach Bryan Santy
Last week, Knights Baseball won a couple contests against the Orange Glen Patriots.
In Game 1, Jimmy Sampson '25 got the start and threw a complete game shutout. It was Jimmy's first career win as a Knight, as he struck out nine and limited the Patriots' offense to just two hits. Offensively, the Knights scattered 6 hits, highlighted by a Julian Tang '22 double and a Bode Grieve '22 triple. The final score was 3-0.
In Game 2, freshman Henry Armstrong's start on the mound led to 10 strikeouts in five innings pitched. The Knights offense pounded out 11 hits and stole six bases on the day. Standout performances by freshman trio Ian Browne, Hugo Avila Marquez and Griff Hemerick powered the Knights to their second win in a row in a dominating 9-0 win.
The Knights have one final series of the year against Classical Academy, and with a good showing, have a solid chance of making the playoffs.