The Locker Room: Dec. 8, 2021
Jen Jordan
Girls' Varsity Soccer Makes Strong Pre-Season Debut
By Coach Scott Morrison
Girls' Soccer opened the 2021-22 season with a decisive win against San Diego High School last Wednesday, with a final of 3-1.
Scoring began early in the first half when Jordyn Mariam '23 scored on a nice left cross from Erin Ellsworth '23. While the Knights maintained most of the possession in the first half, the Cavers snuck through the back line to put one on the board before the half ended.
Shortly after the restart, Erin dribbled past several SDHS defenders to angle one in the far corner of the net on a pass by Presley McDonald '22. Scoring concluded with a very well-taken shot from distance by freshman Gabby Anderson '25, who cut in from the left on a pass from Emma Hong '22.
The Knights' defense made it tough for the Cavers to gain any momentum, with strong efforts by Sophia Bartolo '22, Cate Freundt '22, Kate Peterson '23, Gabby Anderson '25 and freshman goalkeeper Riley Lincoln '25.
I was really pleased with how well the team connected during this first outing. We look forward to a strong showing this season.
Girls' Basketball Wins Thriller
By Coach Paris Johnson
Thursday against El Camino was a tough one for us. El Camino came with a physical game plan to trap our leading scorers. We fought hard and came up short. Senior Angie Robles led our team in points with 25. Right behind her was classmate Renee Chong with 16.
Friday's game versus Morse had a very interesting outcome. It was competitive and physical. Six players suited up for us, which was our first battle of adversity. Morse threw every defensive scheme at us to slow our pace down, as well as limit touches for Angie and Renee. Minutes into thefourth quarter, two of our players - including Angie - were fouled out. We ended up pulling away with four players on the court, winning the game 65-62.
We had a game-changing moment when ninth grader Malaya Taylor took a charge during Morse's possession. Renee led us in the fourth quarter and knocked down crucial free throws, keeping her poise when everything was on her shoulders. Leading scorers were Angie with 32 points and Renee (23), with help from Katelyn Wang '23 and Summer Hu '25. It was a game to remember. I am SO proud of our team for fighting through adversity and sticking together.
Last night, we took on Mater Dei. We had a slow start but picked it up after halftime. We faced full court pressure and some physicality in the paint, being out-rebounded on both ends. Mater Dei hit a few threes in the third, which kept them around. In the fourth quarter, Angie took over by getting to the rim. Once again, our leading scorers were Angie (33), Renee (18) and Malaya (7). She was stellar for us last night with her quick drives to the basket.
Thursday night, we are at San Marcos for a 6 p.m. tipoff. Go Knights!
Bishop's Surf Beats Serra
By Coach John Nagler
Bishop's Surf Team triumphed over Serra 50-33 on Nov. 14 at Ocean Beach.
Highlights of the Ocean Beach contest included big cutbacks from Fenton Daly '24 and Carl Murfey '25, textbook lefts from Aiden Khazeni '22, and Ethan Marquez '23's debut shredding (cut short, unfortunately, by a sting ray). Fenton also surprised us with aggressively stylish longboarding, including hanging five and taking chandelier falls to the dome in a near-barrel. We were also thrilled to have captain Rory Engh '23 back.
The team placed well in individuals. Carl took fourth in shortboarding and second in bodyboarding; Fenton took a well-earned third in longboarding; and Rory sent a wake-up call by winning longboarding and placing second in shortboarding.
The surf team returns to the water this weekend at Oceanside Harbor.
Girls' Water Polo Opens Season
By Coach Doug Peabody
Girls' Water Polo opened the season Dec. 2 against two very tough Orange County opponents: Mater Dei and Orange Lutheran.
The girls put up a good physical battle over the course of the game but came away a 9-5 loss. Senior center Alex Bonaguidi led the Knights with three goals. Classmate Deming Wyer and junior Julia Bonaguidi added the other tallies. The Knights were backstopped in the cage by junior Chiara Marmanillo, who notched six saves to go along with one steal. Deming also led the team in steals with five while Alex chipped in four.
The Knights were back in the water on Saturday and played tough in a loss to Orange Lutheran, 17-11. Bishop's was led by senior Maggie Johnson with three goals and two assists. Deming had two goals and four steals. Other scorers for the Knights were Alex with two goals, sophomore Sofia Holman with two first-quarter goals, junior Camille Greenlee and Kendall Wyer. Senior Alex Scafidi chipped in two assists. The Knights were backstopped by Chiara, who had eight saves and three steals.
Boys' Soccer Competes in Parker Tournament
By Coach Shane Walton '98
Boys' Soccer competed in the Parker Tournament this week.
The Knights opened against a solid Crawford team. Our boys battled in what turned out to be a physical game. Paul Cluskey '22 got the team on the board with a strike from about 25 yards out. This score proved to be the 1-0 game-winner in the end.
In the next match against Foothills Christian, their team got a goal on an errant pass by us. As is typical of our program, we battled to get even. There were a ton of opportunities created but we could never capitalize and ended up losing 1-0.
The last bracket game featured Holtville. Once again, Cluskey got us on the board early with a nice header goal. The boys continued to pour it on to the tune of a 6-0 victory. The other goal scorers were Nick Ratto '24, Kelsea Morrison '23, Aidan Holden '22 and Julien Rubio '22.
Boys' Basketball Executes Busy Week
By Coach Nick Levine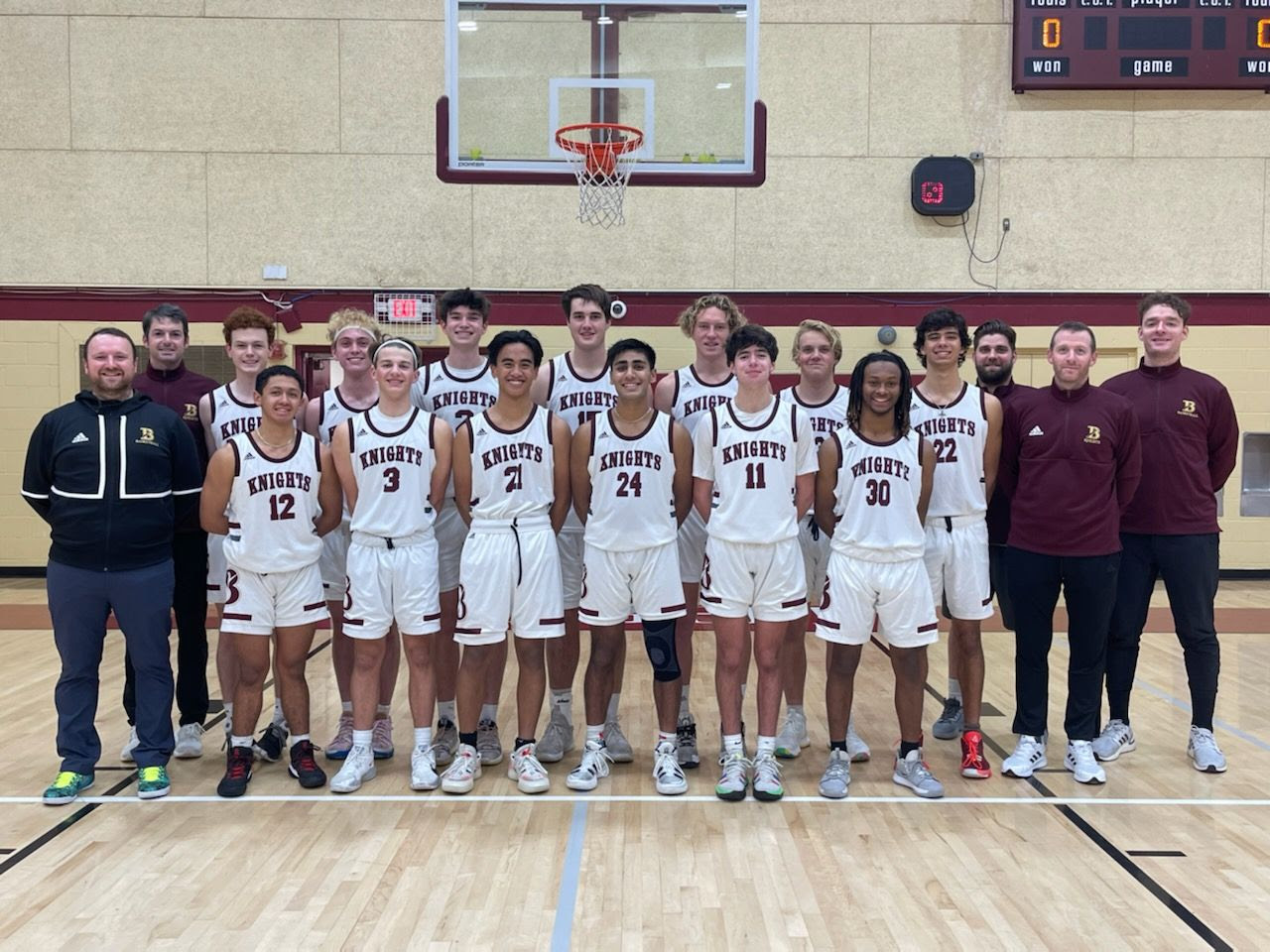 We had a very busy week with five games in eight days. We won Monday, Tuesday and Thursday, and held the three teams to fewer than 40 points, which shows our defensive improvements. In the Jeff Armstrong Memorial Tournament, we advanced to the championship game of the premier division but lost on Saturday to a tough Mater Dei team.
Luke Ball '23 (12.8), Nicky Clotfelter '22 (12.3), Tyler Hagan '23 (9.3) and Armaan Damani '24 (7.3) were the team's top point-getters over the stretch. Nicky (5.0), Luke (4.8), Armaan (3.8) and Ray Thornton '23 (3.5) grabbed the most rebounds, while Tyler dished out a team-best 5.0 assists per game.
I really like our team's commitment to each other, and how they are improving each day. Next up, we hop on a ferry and head to Avalon High School for three games Thursday through Saturday.