The Locker Room: Dec. 15, 2021
Jen Jordan
Fall Sport Athletes Earn All-League Honors
Congratulations to the fall sport student-athletes who earned all-league, city or county nods!
Cross Country
All-CIF First Team: Maddie Cramer '22
Field Hockey
All-Western League First Team: Maggie Johnson '22
All-Western League Second Team: Erika Pfister '23
Football
All-Coastal League First Team Defense: Tyler Boynton '24, Mike Houk '22, Hewitt Watkins '23
All-Coastal League First Team Offense: Raynall Thornton '23, Thomas Muniz '22, Jaden Moore '23
All-Coastal League Second Team Defense: Henry Armstrong '25, Chase Jordan '24, Rhett LaRocca '22
All-Coastal League Second Team Offense: Colin Fagan '24, Alex Gonzalez '23, Jack Hertz '22
Girls' Golf
All-CIF First Team: Lucy Yuan '24
All-Coastal League First Team: Ashlyn Garrigan '25, Renee Wang '24, Joyce Wu '25
Girls' Volleyball
All-CIF First Team: Brynne Faltinsky '22
All-CIF Second Team: Sydney Bold '23
All-Coastal League First Team: Brynne Faltinsky '22 (Player of the Year), Sydney Bold '23 (Libero of the Year)
All-Coastal League Second Team: Annecy Crockett '22, Ashley Sottosanti '22
All-Coastal League Honorable Mention: Nalani Muniz '24, Matsa Shi '24
Boys' Water Polo
All-CIF First Team: Garrett Johnson '22, Chase Landa '23, Oliver Price '23, Mark Stone '22
All-CIF Second Team: Lukas Peabody '24, Justin Stone '24, Max Stone '22
CIF Coach of the Year: Doug Peabody
All-Western League First Team: Garrett Johnson '22 (Player of the Year), Chase Landa '23, Oliver Price '23, Mark Stone '22
All-Western League Second Team: Lukas Peabody '24, Justin Stone '24, Max Stone '22
Girls' Water Polo Wins Villa Park Tournament
By Coach Doug Peabody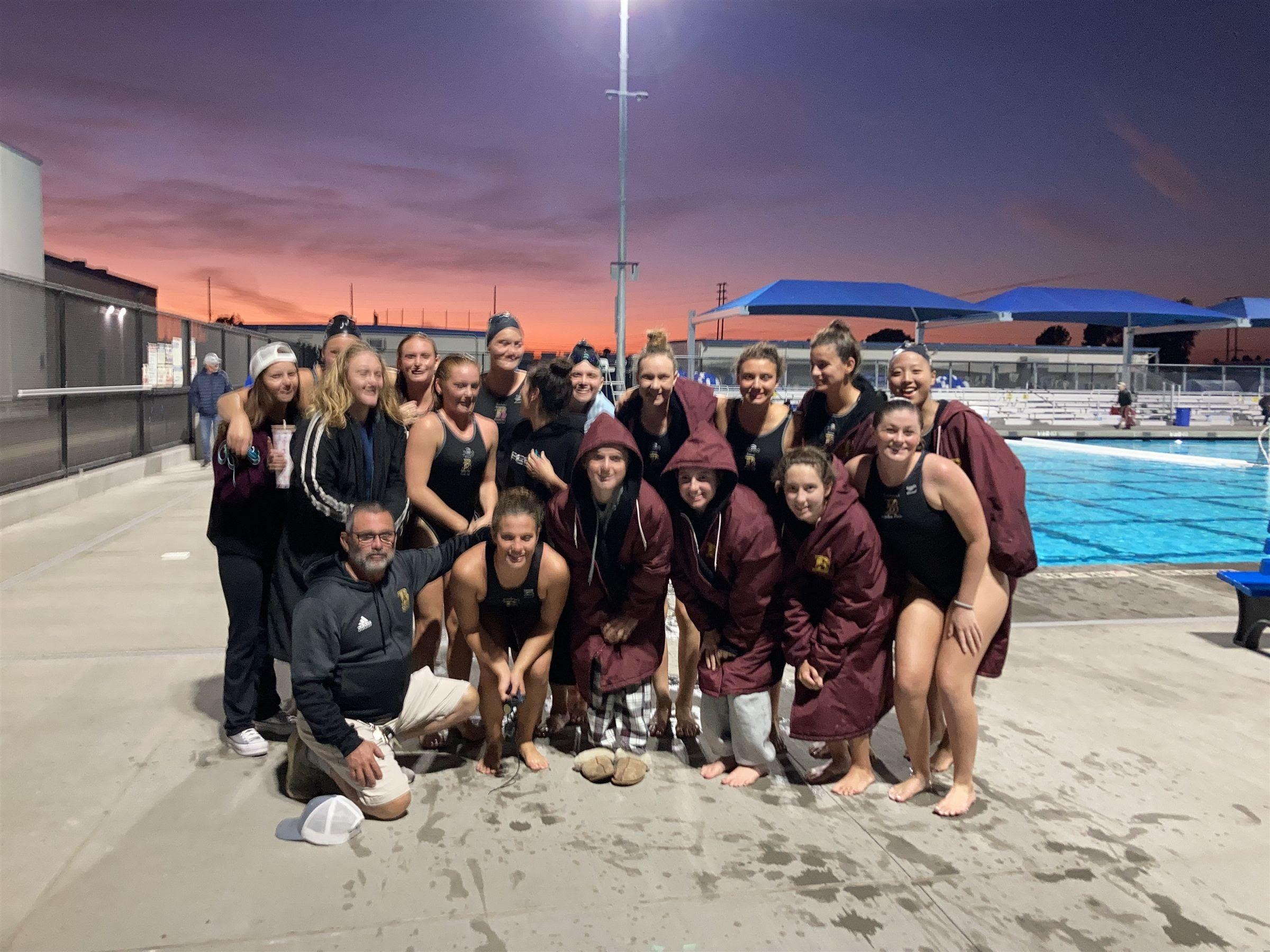 Girls' Water Polo took their annual trip to the Villa Park Tournament with an 0-2 record to start the season. The girls were ready to get on the winning side of things as they were going to play five games in three days last week. The Knights felt good about their number-three seed out of 30 teams in the tournament. Unlike the first two games of the season, the Knights would face a few teams not ranked among the top 10 in the country.
The first game went as planned and the team took down host Capistrano Valley 22-1, in which nine different girls scored goals. Senior Maggie Johnson and junior Julia Bonaguidi each had four goals, and Maggie led the way with three assists and eight steals. Sophomore Sofia Holman and freshman Kylie Norden had three goals apiece while juniors Lisbon Ziegler and Kate Weatherup each contributed two goals. Junior Chiara Marmanillo had three saves in a half of work and freshman Maddy Lane made four. Kylie also chipped in five steals.
In Game 2 on Thursday night vs. San Juan Hills, the Knights came away with a 26-7 win. Julia took over almost immediately and scored nine goals, while Sofia was next with three goals. Senior Alex Scafidi had a nice game with a line of one goal, four assists and two steals, while sophomore Kendall Wyer had one goal, three assists and three steals. Chiara had eight saves in the goal.
On Friday night, the girls found themselves in a battle playing Santa Barbara with an 8-5 score going into the fourth quarter. With the outcome in balance, the Knights turned it up a notch in the fourth quarter and came away with a 13-5 victory. Maggie and Julia led the team again with four goals each. Chiara had five saves, one assist and two steals in goal. Senior Alex Bonaguidi had three goals, while junior Camille Greenlee had two and senior Deming Wyer had a goal to round out the scoring.
Saturday was exciting as the girls made it to the semifinals and were set to take on the top-seed Los Alamitos at their brand new 50-meter pool. The game was a back-and-forth affair with the Knights leading 9-7 going into the fourth quarter, coming away with a 12-9 victory. Team leaders were Julia with five goals, Maggie with four and Alex with two goals, one assist and four steals. Deming had one goal and three steals. Chiara had four saves and four steals.
The Knights were then off to the finals to take on number-two seed San Marcos from Santa Barbara, and what game it was. The game was tied every quarter except the first, including both three-minute overtime periods, with a golden goal needed to break the 18-18 score.
Each team had two chances to end it, including a player advantage opportunity for the Royals before the Knights got their golden goal from Julia, assisted by Kate Weatherup '23 and Kendall on the fifth possession of the period. This capped off an eight-goal performance from Julia, who led the Knights on the weekend with 28 goals, eight assists, five drawn exclusions and 13 steals. Julia's sister Alex was the only player to play all seven quarters against San Marcos, and she, too, was amazing with four goals and two assists. Alex quarterbacked a nice game, handing out five assists, while Maggie and Deming chipped in two goals apiece, Deming also added four steals, while Julia led the team with six steals. Kendall and Maggie each had three steals, and Chiara had her best game of the year in goal with 11 saves and two steals to secure the win. Sofia and Camille had big goals to keep the Knights on pace and senior Soyoon Park scored the game-tying goal with seconds left in regulation to get the Knights to the thrilling overtime periods.
The girls returned to Bishop's with a 5-2 record with a tournament championship to their credit. GO KNIGHTS!
Girls' Varsity Soccer Battle Tough Point Loma Team in Rain
By Coach Scott Morrison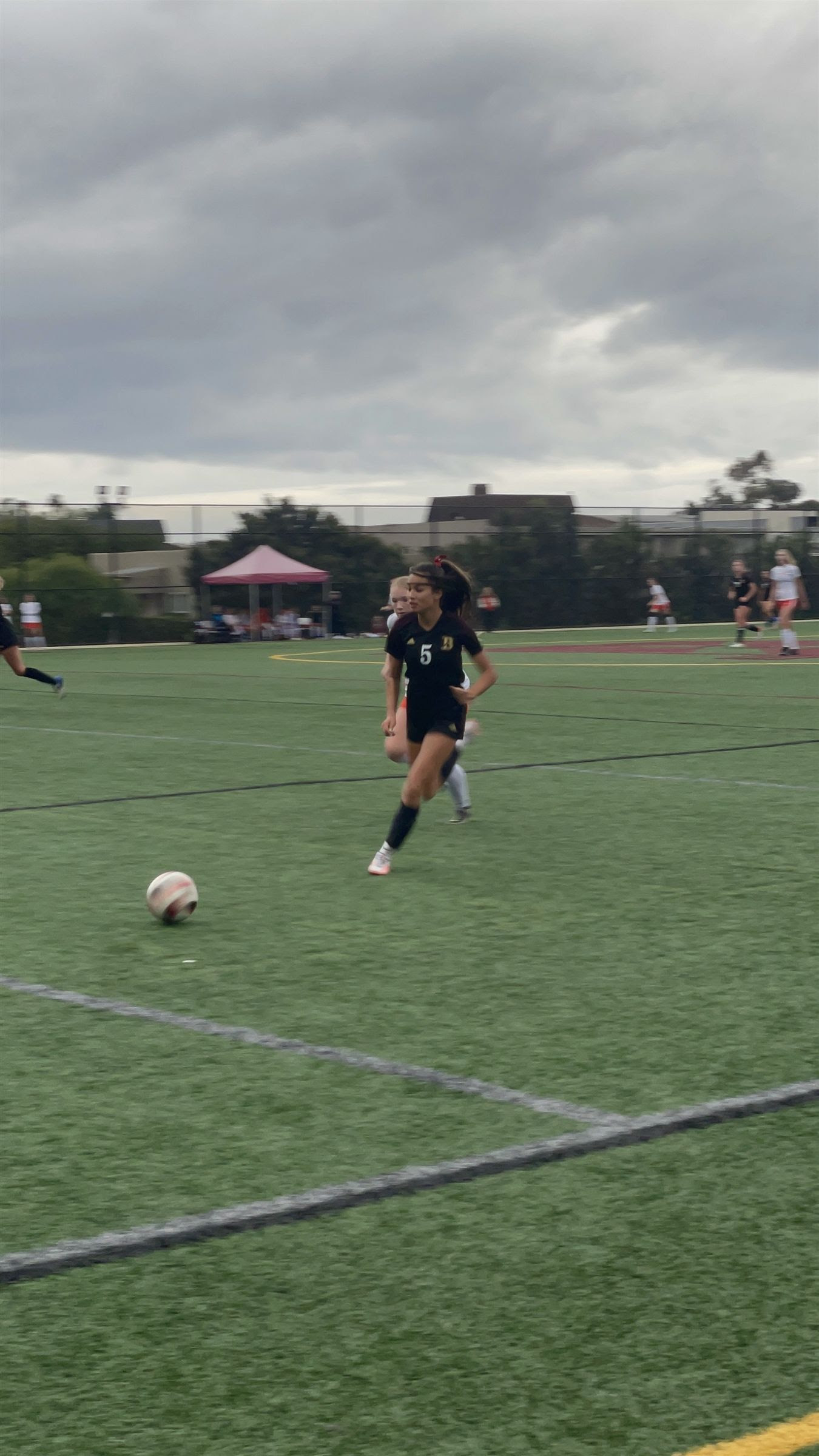 Girls' Soccer team endured the cold and rain last Thursday to tie the Open Division classified Point Loma Pointers at home on Hunte Field.
The Pointers took the lead early in the first half, only to be answered by the Knights in the 16th minute. Erin Ellsworth '23 beat her opponent on the dribble and took an amazing shot from long range that beat the Point Loma keeper in the top corner.
Four minutes later, Presley McDonald '22 executed a beautifully placed corner kick, which was volleyed in at close range by Nicola Xanthopolos '23, earning Bishop's a 2-1 lead.
As darkness set in, the Pointers sent one in just under the crossbar to tie the game 2-2. The Knights attempted to answer, fueled by multiple set pieces generated by Point Loma fouls. Erin sent in a great free kick which the keeper tipped around the post to keep the tied score.
Lexi Black '24 made her first appearance of the season with a strong performance in goal and Emma Hong '22 passed well, making smart decisions in the midfield.
This game was a really good test for us early in the season against an Open Division team. We looked dangerous late on with well-executed set pieces and I thought the defense was strong again this game as Point Loma had some dangerous attacking players. A win against this team was definitely within range.
We take on three strong teams this week as we compete in the Platinum Division of the San Diego Holiday Jubilee Tournament, hoping for a berth in the final on Saturday.
Girls' Basketball Beats San Marcos
By Coach Paris Johnson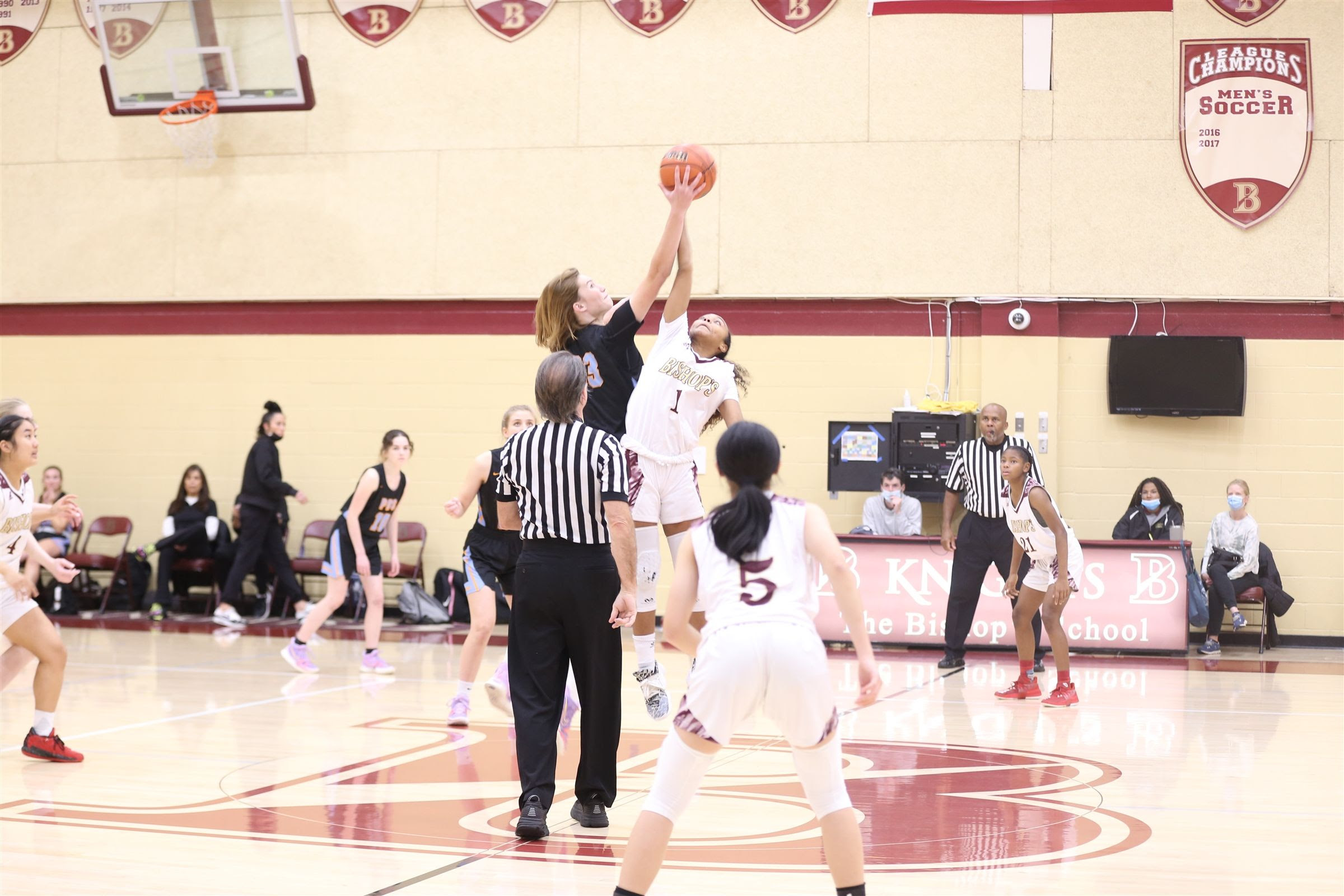 Girls' Basketball had a strong finish to end the second annual Jay Rowlett Matador Classic with a win at San Marcos last Thursday, bringing us to a 4-1 record for the tournament.
We went 10-for-16 from beyond the arch with senior Renee Chong's six threes leading the way. Junior Katelyn Wang chipped in with a pair of her own (2-for-3), and freshmen Malaya Taylor showed her comfortability and growth, hitting 2-for-4. Senior Angie Robles carried us in the paint, scoring layup after layup and drawing fouls to give her plenty of opportunities for free points from the free-throw line. She ended the game with 33 points, and close behind her with 27 points was Renee.
On Saturday, we took a trip to Orange County to face the JSerra Lions. It was a great battle, and a good game for us to gauge where we stand as a team and as individuals. We stuck around for three quarters, keeping it close. However, we let their best three-point shooter get hot and had a difficult time keeping their leading scorer out of the paint going into the fourth. Despite that, they had a difficult time keeping Angie from scoring, and she led the way with 35 points.
Last night, we had our first conference league game versus Pacific Ridge, one of the last two games heading into the holiday break. We started off the game slow, which wasn't part of our game plan. Going into halftime, we only led by six points. We pulled away in the fourth, scoring 25 points to their 14. It wasn't our best three-point shooting night. But our defense became a game-changer in that fourth quarter, giving us momentum and the energy we needed to finish strong. Our top scorers were Angie with 35 points and Renee with 27 points.
On Thursday, we visit Mount Miguel where we will see a ton of physicality, tempo and pressure defense.
Boys' Basketball Wins Avalon Tournament
By Coach Nick Levine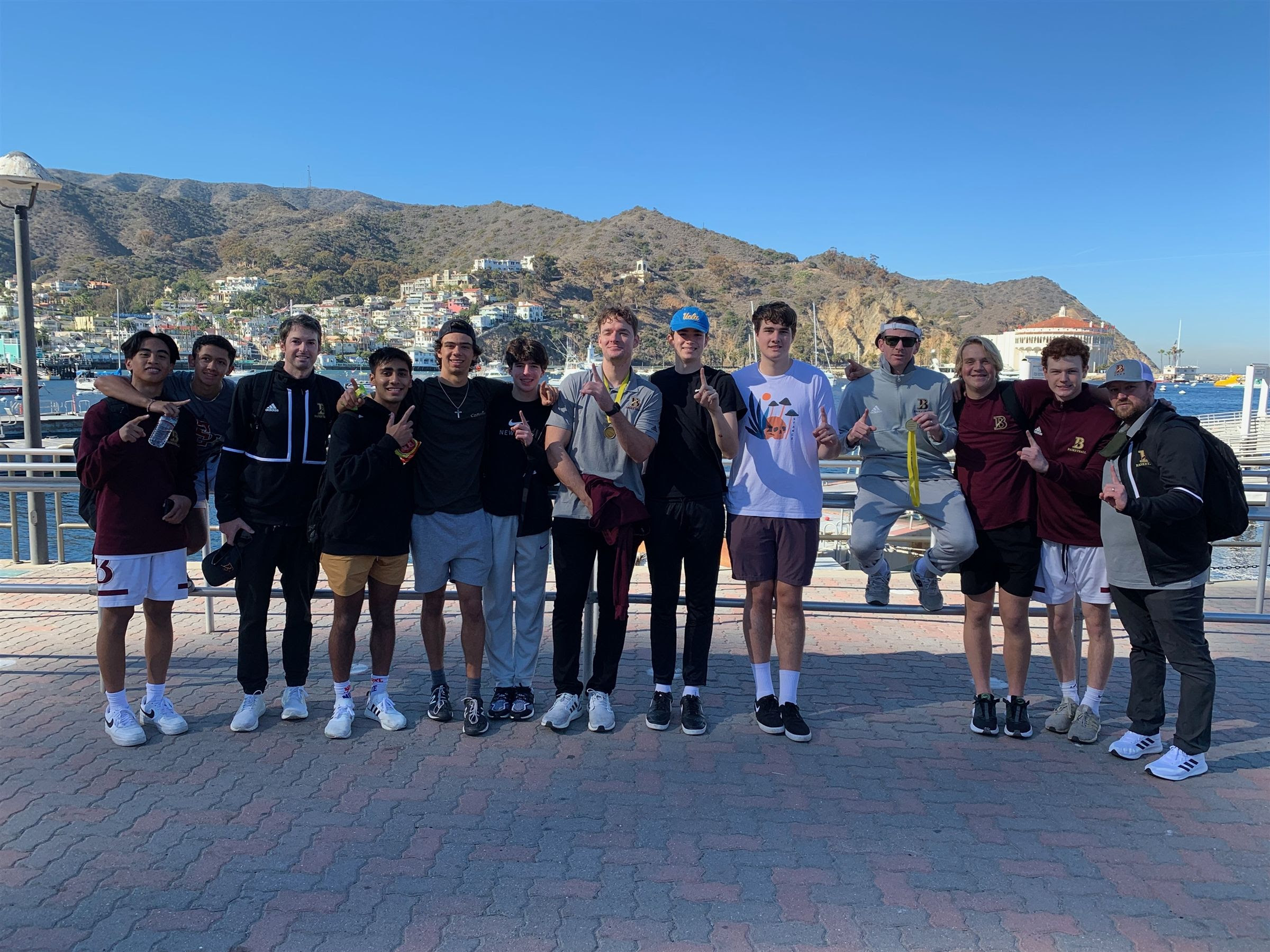 Boys' Basketball had a great trip over to Catalina, winning all three games to take the tournament title.
Against Wildwood on Dec. 9, we dominated, 79-27. We edged Pacific Ridge the following day 65-46 and in our final game on Saturday against Avalon, we won 84-30, with all 12 players scoring a basket.
Senior Nicky Clotfelter was tournament MVP, averaging 13.7 points and 7.3 rebounds per game. Luke Ball '23 was named to the all-tournament team, averaging 9.3 points, three rebounds and 2.3 steals per game. Armaan Damani '24 (8.7), Tyler Hagan '23 (8.3) Morgan Stoefen '24 (7.3) and Luke Seltzer '23 (7.0) were also top offensive contributors.
Other highlights included visiting an arcade and bowling, mini golf, celebrating birthdays, and senior Cristian Casillas's card tricks.
Surfing Shreds at Mission Beach
By Coach John Nagler
The combined forces of water polo and the ACT left Bishop's Surf Team undergunned against Vista on December 12. At least conditions were favorable at Mission Beach, especially compared to the monster seas we faced last time!
In the team competition, Aiden Khazeni '22 took first in his men's shortboarding heat. Captain Rory Engh '23 continued her streak, placing first in both women's shortboarding and longboarding. Carl Murfey '25, currently the No. 2 bodyboarder in our division, added five points to our tally but it wasn't enough to overcome the deficit wrought by our short bench. We lost 50-36.
The surfers fared significantly better in individual competition. Amazingly, the surf held up throughout the morning and early afternoon as Fenton Daly '24, Carl and Rory fought for glory. The format consists of 15-minute heats, often back-to-back, and is absolutely exhausting. By the time Fenton had finished, for example, he'd completed 10 heats and caught dozens of waves. Competitions are the opposite of the free surfing most of us enjoy.
Luckily, we have a tough and determined team, as evidenced by the medals collected at the day's end. Carl defended his standing by placing second in bodyboarding. Fenton took third in shortboarding and fourth in longboarding. Rory made Bishop's history by winning our school's first "double-double:" first in shortboarding and first in longboarding. The league recognized her accomplishment with a giftcard to In-n-Out, certainly a more satisfying ending than anything the ACT offers.
Sailing Competes in SoCal Regatta
By Coach Tony Pelletier
On Dec. 12, Bishop's Sailing competed in the SoCal Regatta No. 3 at Mission Bay Yacht Club.
We entered two boats, one in "Gold" division skippered by Ethan Chuang '22 and crewed by Alex Yang '23, and one in "Silver" division skippered by Celeste Oder '26. Celeste's regular crew was ill and we had to borrow a sailor from La Jolla Country Day.
In the silver division, Celeste had a strong showing, finishing fourth out of 19 teams. The division sailed six races. They never finished lower than seventh in any of the races, and had one first-place showing, as well as one third-place finish. Perhaps more importantly, they had a great time!
Our gold boat had a challenging day, going up against some solid teams and learned a lot.
Boys' Soccer Falls in Parker Tournament
By Coach Shane Walton '98
Boys' Soccer lost its semifinal match in the Parker Tournament to Otay Ranch.
Within the first four minutes, we gave up a penalty of which Otay took advantage, and opened up the scoring. Otay presented a quality test as they were organized and skilled. But our boys continued to battle and started to dominate the run of play with the exception of the first 10 minutes.
The second half began the same way the first half ended with the Knights dominating possession and opportunities. A bad turnover on our part led to a second goal by Otay, despite the Knights' dominating performance.
In Knights fashion, the will and drive to compete never waned. Team-leading scorer Paul Cluskey '22 finished a penalty to draw us one goal closer for the 2-1 score. Despite several chances and missed opportunities, we fell short.
The Knights look forward to playing crosstown rival La Jolla High on Friday, Dec. 17 at 3:15 p.m.
Four-Year Fall Student-Athletes
Thank you to the senior fall sport student-athletes who competed all four years for their sport! Each four-year student-athlete who has played the same sport at any level all four upper school years at Bishop's is awarded a "Committed to Excellence" sweatshirt. We are thankful for your dedication to Knights athletics!
Cross Country
Maddie Cramer
Michelle Lai
James Frerichs
Maddie Cayer
Stanley Wei
Lance Johnson
Russell Cleary
Sacha de Poyen-Brown
Football
Mike Houk
Scott Dyvig
Thomas Muniz
Girls' Tennis
Clare Malhotra
Emma Li
Marianna Pecora
Claire Zhao
Mira Gowda
Saavi Banerjee
Girls' Golf
Annie Fang
Andrea Rix
Michelle Wang
Elise Watson
Field Hockey
Yasi Henderson
Maddie Keck
Bella Myer
Girls' Volleyball
Annecy Crockett
Brynne Faltinsky
Ellen Li
Sofia Roberts
Ashley Sottosanti
Boys' Water Polo
Mark Stone
Garrett Johnson
Seiji Ayala-Seikiguchi
Max Stone
Sailing
Ethan Chuang
Equestrian
Emma Watson
Charlie Johnson
Cate Freundt
Paige Walker
Squash
Logan Johnson
Luca Patapoutian
Miller Watson