The Locker Room: Dec. 1, 2021
Jen Jordan
The stores for winter and club sports are now open online. Place your orders by Dec. 15 at the links below.
Athletes in Action | Saturday, Dec. 4
Bishop's Athletes in Action is Saturday, Dec. 4 from 9 a.m. to 12 p.m.! This event is an active meet and greet for prospective students to get to know Bishop's coaches and current students. Please invite your friends, teammates and neighbors to attend. Learn more and register here.
Bishop's Fans Commitment to Core Values
The Bishop's School athletic administrators and coaches view our fans as an integral part of our students' overall athletic experience. School spirit and team support at games, matches and races has never been better. Our teams recognize, appreciate and thank you for this support.
The partnership between the School and its fans is critical to a safe, fun and positive experience. We ask all fans to be mindful of the School's core values when attending athletic events:
Integrity - We commit to self-examination and honest reflection. Our moral compass informs our thoughts and actions, and brings forth our best selves.

Compassion - We foster a spirit of humility, empathy and concern for the well-being of ourselves and others, and we seek to love and serve our neighbors as ourselves.

Inclusion - We welcome all identities, family structures, religious beliefs and backgrounds. We value our differences and embrace the responsibility for creating an inclusive community where all feel that they belong.

Intellect - We believe that inquiry and critical reasoning are essential to an active, engaged mind and the pursuit of knowledge and truth. We encourage curiosity as the motivation that kindles a life of joyful, purposeful learning.

Excellence - We hold high expectations for ourselves and each other to develop our fullest potential in our work, deeds and intentions.

Justice - We respect the dignity and rights of every human being and confront inequality and injustice.
Thank you for joining us in modeling good sportsmanship to student-athletes, opposing schools and game officials.
Girls' Basketball Starts Season Undefeated
Girls' basketball opened their season on a high note with wins over Carlsbad and La Costa Canyon.
In their season opener on Nov. 16 at Carlsbad, the Knights topped the Lancers 61-52. Theteams were tied 24-24 at halftime but theKnights broke away in the second half, out-scoring Carlsbad 39-28. Senior Renee Chong had a double-double, scoring 31 points and bringing down 16 rebounds alongside five steals. She was six-for-six from the free throw line. Classmate Angie Robles also shot double digits with 18 points.
Against the Mavericks, the Knights established an early lead and thwarted a late-game onslaught by La Costa Canyon for the 61-58 win. Bishop's was once again led offensively by Angie and Renee. Renee had her second double-double in as many games with 20 points alongside 10 rebounds. Angie scored a team-high 27 points, grabbing seven rebounds with five steals and a block. Senior Nat Sierra-Vargas scored 10 points with nine rebounds and three assists.
Boys' Basketball Opens Campaign with Winning Record
Boys' Basketball kicked off the 2021-2022 campaign with a 4-1 record, sporting wins over Escondido Charter, Patrick Henry, University City and La Jolla.
Nicky Clotfelter '22 and Luke Ball '23 are the team's leading scorers, averaging 14.2 and 13 points per game, respectively. Nicky is also the Knights' top rebounder and blocker, bringing down 5.6 rebounds per game and blocking 2.2 shots per game. Tyler Hagan '23 has 9.8 points per game this year, averaging 4.2 assists and 4.6 rebounds per game. Armaan Damani '24 is tied for the team lead with 4.6 rebounds per game. Morgan Stoefan '24, Ray Thornton '23 and Jake Molinar '23 have also appeared in every game this season.
Cross Country Has Successful Showing at CIF Meets
By Coach Jennifer Seymour
Bishop's Cross Country finished the season on a high note, with successful showings at CIF San Diego and at theCIF State meet!
The CIF San Diego meet was held at Morley Field in Balboa park on a 2.96-mile dirt and grass course. The boys placed 7th out of 20 Division 5 teams competing, and most boys hit huge PRs and improved dramatically over their times in the last CIF-SDS meet. Freshman Jacob Cravatt started off conservatively, but amped up his speed consistently in the second and third miles to overtake the rest of our varsity team one-by-one and finish in 18:07. Senior captain James Frerichs was right behind in 18:13 - capping off his strong Bishop's Cross Country career - and junior captain Joshua Lee finished one second later in 18:14. The team graduates five senior boys this year, so we will need the younger members to rise to the occasion and fill their shoes next year!
At CIF San Diego, the girls finished 5th out of 20 Division 5 teams in attendance, despite being hit hard by injuries this season. Senior captain Maddie Cramer hit a huge PR on the course with a time of 18:03 to finish second overall and qualify for the State Championships. Our next girl to finish was junior Maya Krolik, in 21:48.6. We will lose three senior girls this year, and will miss their leadership and skill!
Maddie Cramer traveled to Fresno on Friday to compete at the CIF State Championships. The 5k (3.1 mile) course is mostly dirt and is less hilly than most of our San Diego meets, so we knew Maddie was primed for a fast time. Nevertheless, she never ceases to amaze and ran a big 5k personal best time of 18:33 (that's 5:59/mile for over 3 miles) to finish in 4th place overall in Division 5. With this race, Maddie also broke her own Bishop's Cross Country record by almost 40 seconds. Maddie has been a dedicated member of the team who energized the squad, led by example and dedicated herself to every workout; we wish her all the best in her running career at Princeton next year!
Winter Sports Season Preview
Boys' Basketball
By Coach Nick Levine
We have a nice mix of returners and some guys that are new to varsity. We have good leadership from our senior captain Nicky Clotfelter, who is a three-year varsity player. Key contributors alongside Nicky include juniors Luke Ball, Tyler Hagan, Jake Molinar, Shea Rueda, Luke Seltzer, and Ray Thornton, and sophomores Armaan Damani and Morgan Stoefan.
If you watch us play, I think it is obvious how connected we are as a team, and how much these guys genuinely enjoy each other. Because of that, I expect us to continue to get better throughout the season and play our best basketball in February. We hope to have a team that our community can be proud of because of our effort and togetherness.
As always, our league is tough and we look forward to the challenge of playing really good teams. We compete in two tough tournaments this year: a tournament in Catalina Dec. 9-11, and the Torrey Pines Tournament Dec. 27-30.
Girls' Basketball
By Coach Paris Johnson
We are going to face a ton of adversity this season but will bring our effort and energy to each game. We are a new team with new faces who are entering a culture of high level basketball. We expect to get each team's best game night in and night out and we will hold ourselves accountable to compete! This will be a season of individual growth as well as a whole team. I am excited to teach and prepare my team for all that is to come our way!
Our key performers are seniors Angie Robles, Renee Chong and Natalia Sierra-Vargas as well as one of our freshmen, Malaya Taylor, who is making her way to being an impactful player for us.
Our program has endured a few changes this season with my role as a new head coach, welcoming four freshmen, and the important roles of our returning seniors in Angie, Renee and Natalia. It is a transition year for us all but we are on the Pursuit to building excellence on and off the floor. Not many understand what it takes to be an athlete and the work put in during practices when no one is around and to do this at such a high academic school is a challenge but they accept the challenge daily! We look forward to seeing you all in the stands and cheering us on this season! GO KNIGHTS!
Boys' Soccer
By Coach Shane Walton '98
This season, there is serious reason for optimism. The team is coming off its best season in five years, we only graduated one senior and have 11 seniors on the team, and the boys are motivated to win a CIF championship. The first goal in all of this is to win a league championship. The Knights play in a tough league with a lot of competition. We have seen these teams before and have a feeling that we can not only compete but win.
The team looks close to midseason form after just one week of practice. Much of this is due to the fact that there are 10 returning starters from last year's team. Another is the return of Ames Kinkead '22, who is back after taking his junior year off. He, along with classmate Paul Cluskey '22, will patrol the middle of the field. Kelsea Morrison '23 will look to continue his goal-scoring rampage from a year ago. Jordan Luo '24 is hoping to continue with the dominant season he had as a freshman. He is looking fitter, stronger, more skilled and most importantly more confident. The team is led by Ethan Kjos '22 and Aiden Gutierrez '22, who are four-year starters. Elias Herrera '22 and Lance Johnson '22 will continue to solidify our strong defense. Those two will be aided by Jono Negrin '23, who is the best goalie we've had in years.
Girls' Soccer
By Scott Morrison
My expectation for the season is to work on creating a culture and developing a positive environment throughout the girls' soccer program. My hope is that we have a noticeable style of play and will be entertaining to watch.
We have a number of seniors who I will look to lead the team. My projected starters are seniors Presley McDonald, Madeline Cramer, Sophia Bartolo and Abby Beamer. The team also has some talented juniors and it will be fun to watch them grow!
We will play in the San Diego Holiday Jubilee in December. We will also play against the likes of Francis Parker, La Jolla Country Day, Santa Fe Christian, Escondido Charter High School and will be playing in Division 1. We would like the Bishop's community to come out and support us at our games!
Girls' Water Polo
By Coach Doug Peabody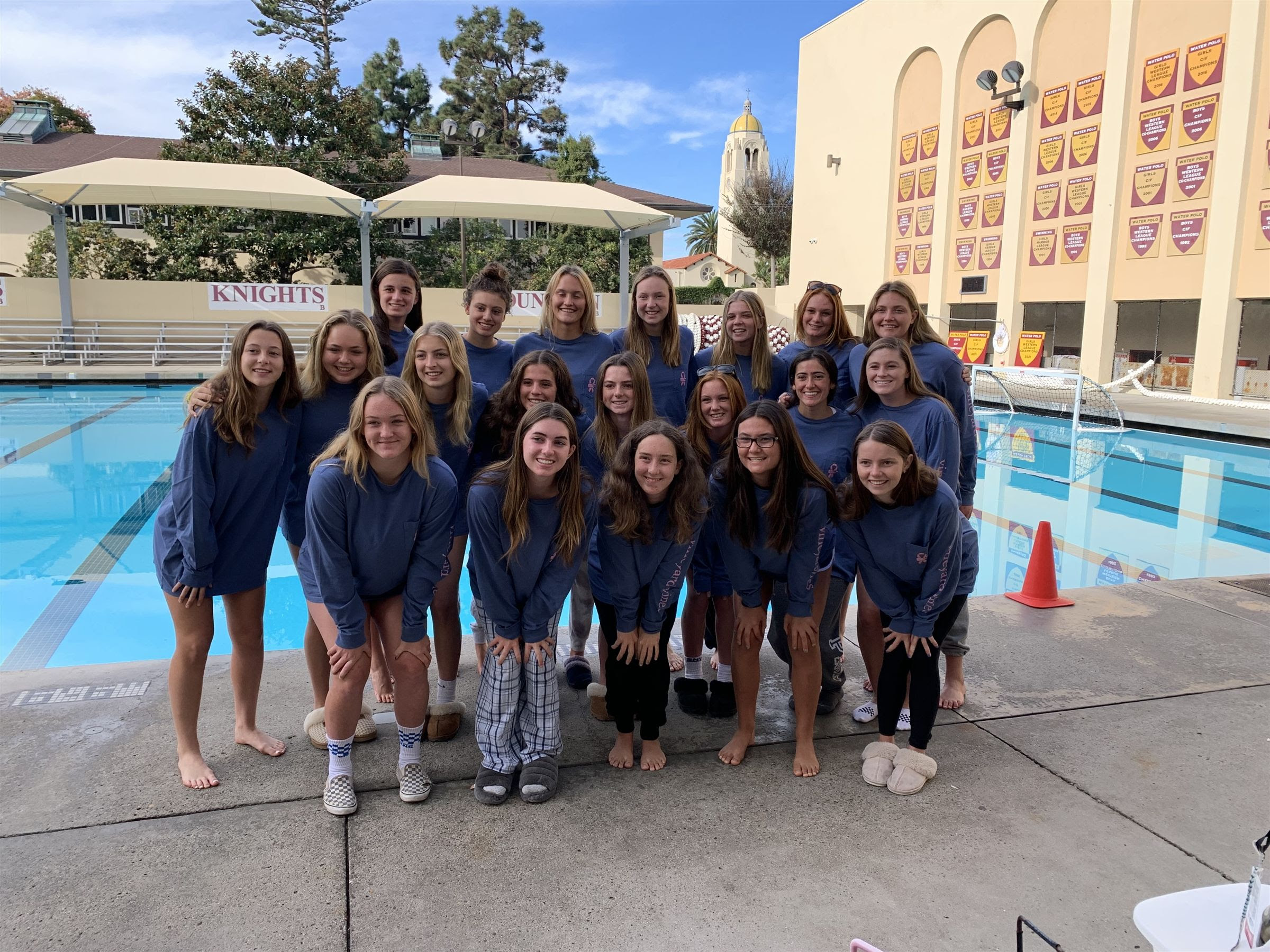 This year's girls' water polo season looks to be very exciting as we have a strong team with six seniors who have all played varsity since their freshman year. Maggie Johnson, Deming Wyer, Alex Scafidi, Alex Bonaguidi, Soyoon Park and Emmy Peabody make for a very experienced squad. We also have a strong junior class of seven and two very talented sophomores. We are excited to see what our freshman class will do over the course of the season.
Coming off our third consecutive Open Division title and an undefeated season last year, the girls are eager to get started this Thursday and Saturday at home, facing two of Orange County's powerhouse teams in Mater Dei and Orange Lutheran. The girls will be playing in three very competitive tournaments, starting with the Villa Park Tournament December 9-11 and then on to the Tournament of Champions in Santa Barbara January 6-8, finishing off with the newly-formed Newport Harbor HS Elite 8 Tournament January 27-29. The Knights are also looking forward to a competitive Western League schedule, kicking off with La Jolla HS on January 4. Please come out and cheer us on!