The Locker Room: April 27, 2022
Jen Jordan
News
Watch the recording of College Bound Athlete Night on April 25, 2022 here.
Transition to Upper School Athletics on April 28
Bishop's Athletics invites all current eighth grade and new upper school parents and guardians to join Athletic Director Paula Conway for an overview of the transition from middle school to high school sports. The goal is to give families a realistic understanding of the time and scheduling commitments expected of our upper school student-athletes. This event will take place at 8:30 a.m. on April 28 in the Manchester Board Room or on Zoom (Passcode: GOKNIGHTS).
Save the Date: BESPYS on May 31
The Bishops Athletics Department invites all upper school athletes and parents/guardians to the first annual BESPYS awards celebrating our upper school varsity athletes. Think the ESPYS with Bishop's flair. The maroon carpet rolls out May 31 from 5 - 7:30 p.m. on campus. Light refreshments. A-game attire.
Bishop's Spirit Wear by Lululemon
Bishop's Spirit Wear by Lululemon is now available online. Please click the link to access the latest Bishop's apparel from Lululemon.
Summer Strength and Conditioning for Bishop's Students
This summer, Bishop's Athletics is offering our strength and agility program to all enrolled students in grades 6-12. In supporting Bishop's Strategic Plan with a focus on student wellness, the summer program is free to all Bishop's students.
The Knights Strength & Agility Program is designed to help student-athletes in grades six through twelve improve their overall athleticism. A series of functional exercises, speed training and conditioning drills are matched together to emphasize strength, speed, agility, flexibility and endurance, benefitting any student regardless of their sport or activity. The program also emphasizes balance, stability, coordination, reaction time and explosive power.

Morning and afternoon sessions will meet for 90 minutes per day, three days per week, in the Coleman Family Health and Fitness Center and on Hunte Fields at the Fowler Athletic Complex on Bishop's campus.
Registration closes on June 1 so we can adequately staff the program. If you have multiple students at Bishop's, please fill out the form separately for each student. Sign ups after June 1 will be put on a waitlist pending available facility space.

All students participating in the summer program must have a signed medical consent form turned in the first day they attend training. The medical consent form will be emailed out prior to the start of the program.
Register here. For more information, contact Charles Johnson at (858) 875-0779.
---
Recaps
Boys' Lacrosse Continues Perfect Season
By Coach Steve Sepeta
Last Thursday, varsity boys' lacrosse defeated La Jolla Country Day 16-2. Brooks Rodger '24 led the scoring with five goals and four assists, followed by Nick Marvin '24 with three goals and two assists, Casey Ryan '23 with two goals and one assist ,and Jackson Landa '22 with one goal and two assists. Colin Fagan '24 and Ryan Landa '25 also contributed two goals each.
On Monday, they faced No. 3 Grossmont and defeated them 12-11. The Knights were up 12-8 late in the fourth quarter but Grossmont battled back late to keep it interesting. Point leaders were Brooks with five goals and three assists, Casey with three goals and three assists and Nick with two goals and one assist. Hewitt Watkins '23 and Jackson also tallied one goal each in the game. Eddie McElroy '25 stepped up huge with 15 saves in the cage, the biggest of which was when the team was playing three men down.
Tuesday saw the boys take down crosstown rival La Jolla 16-3. Point leaders were Casey with four goals and two assists, Nick with three goals and one assist, and Brooks with three goals and one assist. Hewitt also had two goals and one assist, Jacob Tsai '25 scored twice, Colin had two assists, Calvin Belmonte-Ryu '22 had one goal and one assist and Mike Houk '22 had one pole goal. Colin also won 63 percent of faceoffs.
The team is currently 16-0 and ranked #2 in San Diego County. Our next game is Thursday, April 28 at No. 4 Santa Fe Christian at 5 p.m.
Softball Swinging Hot Bats
By Coach Al Gomez
Bishop's Softball visited Oceanside to play a Coastal League game against Coastal Academy on April 22. The Knights offense produced 24 runs to beat the Stingrays, 24-9.
Leadoff hitter Jayla Stafford '25 went 5-for-5 with five runs scored. Senior Soyoon Park hit a two-run home run and finished the day with four RBI.
Eve Paris '23 was perfect at the plate, going 4-for-4 and scoring two runs.
Newcomers Sydney Chan '24, Leela Zaveri-Tabb '25 and Safina Abraham '25 combined for five hits, three runs scored and nine RBI.
Mia Bravo '24 pitched five innings, giving up two earned runs and striking out five.
Check out the Knights' feature in the La Jolla Village News.
Girls' Lacrosse Wins Thrillers
By Coach Meg Carr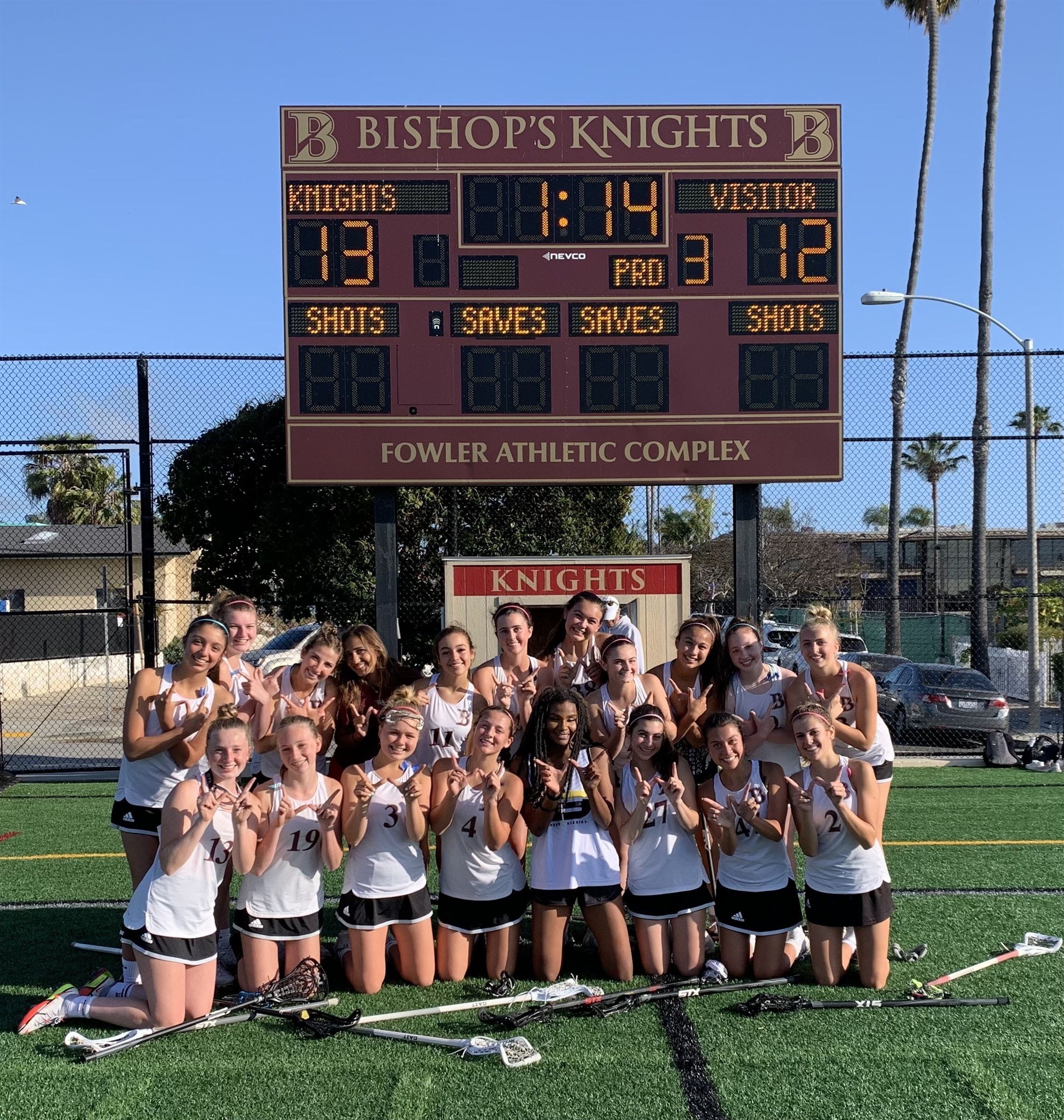 Varsity girls' lacrosse won its last two league games in overtime, both with a score of 13-12!
Last Thursday, the Knights came back to beat LJCDS after losing to them earlier in the season. In overtime, the Torreys were able to win the draw but a big save from senior Zen Greene and a crucial groundball from Laine Jeffrey '25 quickly turned the tide for Bishop's. Bishop's transitioned the ball to the attack where Natalie Marvin '25 gained composure and scored off her eight-meter shot for the win, one of her seven goals in the game. During the game, senior Yasmin Henderson came up big with a goal and an assist. Alex Pfister '25 and Erika Pfister '23 each scored twice and Jordyn Mariam '23 had one.
On Monday, the team beat Santa Fe Christian in overtime by gaining the ball right off the draw. Quick passing among the attack set up an eight-meter for Jordyn where she scored her second overtime goal this season. Tate Vaccaro '22 came up strong in the defense with four groundballs to get into our attack to score. Interceptions were at an all-time high with Erika having two and Jordyn having one. Over the two games, Zen made 14 saves in net.
Surfers Place at State Championships
By Coach John Nagler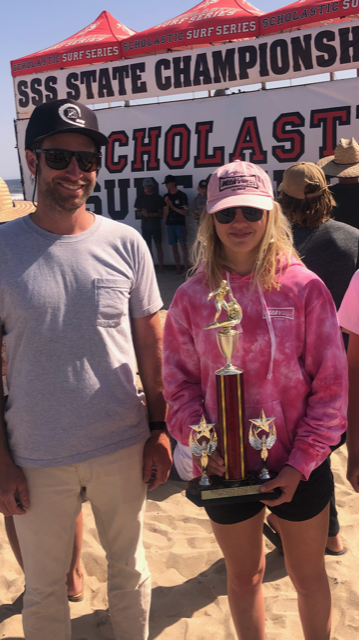 A formidable surf trio including junior captain Rory Engh, sophomore Fenton Daly and freshman Carl Murfey represented Bishop's at the California High School State Surfing Championships on April 25.
Cool and clean conditions prevailed for most of the morning as California's best took to the water. Competition was fierce in the opening heats, especially in shortboarding. Although none of our surfers advanced there, Rory and Fenton both advanced in longboarding. Meanwhile, Carl gave it his best in bodyboarding by dropping into some bombs and sliding around as if on a banana peel. Unfortunately, it wasn't enough.
As noon approached, Rory and Fenton faced hollow closeouts on their logs. The judges appeared to weigh noseriding more than stylish power surfing; before long, Rory stood alone as the sole Bishop's surfer. After placing first in the longboarding quarterfinals, she advanced straight to the finals along with girls who will likely end up on the WSL pro tour.
In the final heat, Rory racked up some early waves, putting her fans at ease. With about five minutes remaining, she caught what we thought would be the contest winner, moving back and forth across the face and cross-stepping to the nose twice. Then we watched another surfer "hang 10" and, in the last minute, Rory's rival caught a ripper that ran from one side of the competition zone all the way to the other. Like the heats in the morning, luck played a significant role in being in the right place at the right time.
We waited in suspense as the judges announced the final results and were thrilled when Rory won bronze. She finishes the season as the No. 3 female longboarder in the state of California. Congratulations!
Bishop's Finish in Top Five at Coastal Conference Meet
By Coach Yvette Davis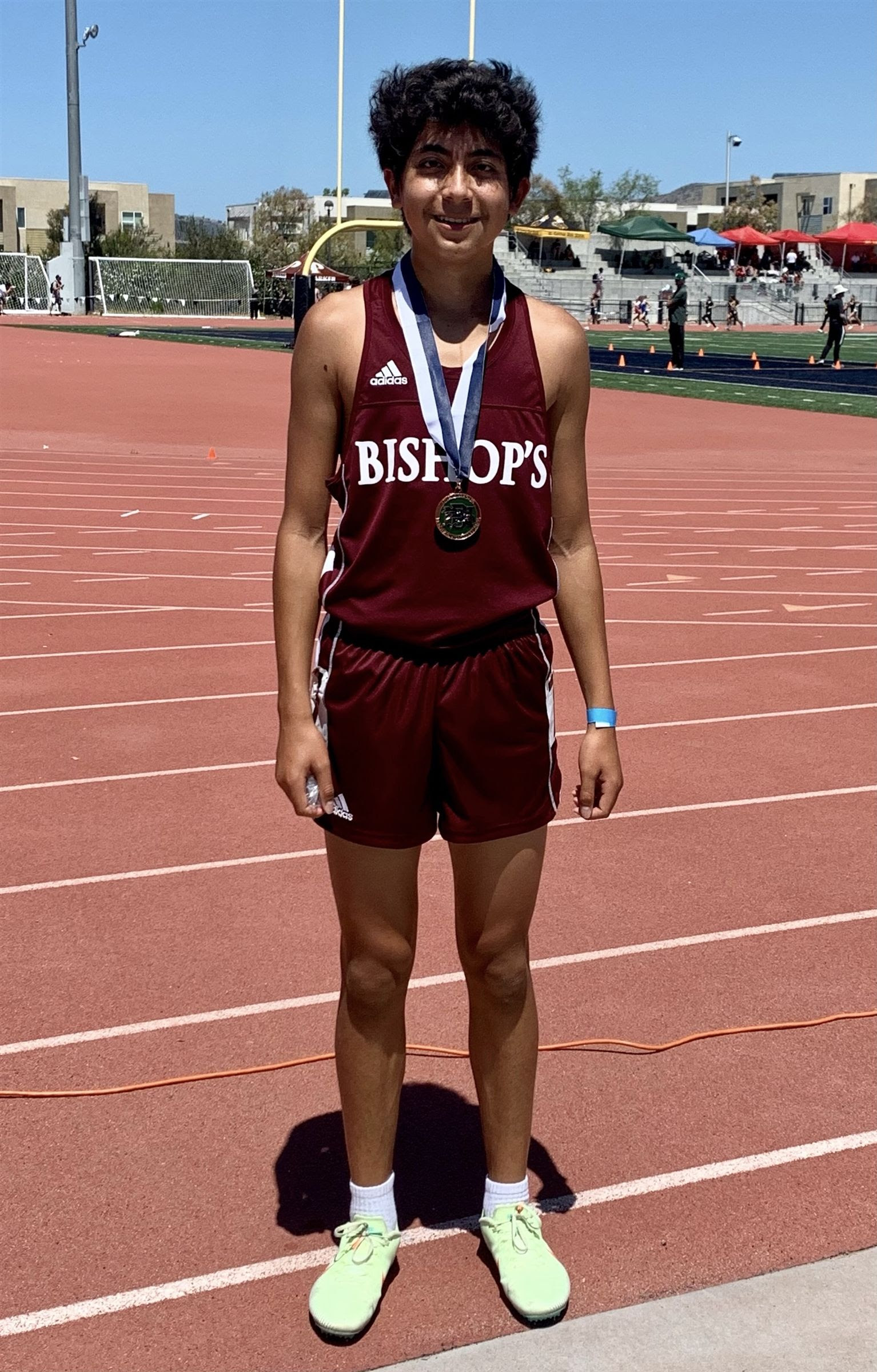 At the Coastal Conference Meet, Bishop's boys' team finished fourth and the girls finished fifth in one of the three scoring meets this season.
Placing in the top six to earn points for Bishop's were Maddie Cramer '22 (first - 400M and 800M); Xavier Rodriguez '23 (first - 200M and second - 100M); Jay Udinsky '23 (second - 800M); Zayd Aslam '23 (fourth - 400M); Katelyn Wang '23 (fifth - 100H and sixth - 300H); Tayshawn Taylor '24 (fifth - 200M; Summer Hu '25 (sixth - 400M); Alexandra Houk '23 (sixth - 800M); Emily Yang '24 (fifth - shot put and sixth - discus) and the 4x400M relay team of Houk, Cramer, Hu and Isabella Combs '25 finished fourth.
Track and field athletes continue to improve individual performance. Posting personal records in the field events at the conference meet in the discus were Zayd (82'1"), Shane Beste '24 (68'0"), Seth Pintar '24 (63'10"), along with Steven Yin '24 in the shot put (24'3") and Kyle Perlman '22 in the long jump (13'4.75"). Setting personal bests on the track in the 1600M were Yin (5:12.4), Joshua Lee '23 (5:12.96), Evan Upatham '24 (5:48.11) and Maya Krolik '23 (6:24.75). Four sprinters recorded personal bests. Showing in the 100M were Emily Madany '24 (14.72) and Combs (14.73). Hu had a personal best in the 200M, running 39.79.
The Knights compete at University City High School Thursday, April 28 at 4 p.m. for the final Coastal League meet.
Freshman Jacob Cravatt competed in the Dick Wilkins Frosh/Soph Track and Field Invitational on April 23 with the top freshmen and sophomores in San Diego.
Running his personal best time of 4:55.38, Jacob finished in a close third with a fight to the finish. He also was invited to compete in the 800M, where he finished eighth (2:18.16). Placing in the top 18 in the conference, Jacob will compete in the Coastal Conference finals next week in the 800M and 1600M.
Boys' Volleyball Sizzling Hot at the Right Time
By Coach Kevin Pratte

Varsity Boys' Volleyball won an important league match against Santa Fe Christian and finished with a 6-1 record at the Valhalla tournament. Throughout the week, the Knights were led by Ryland Birchmeier '22, Greyson Goldberg '23 and Logan Howard '22.
This week, the Knights host Classical Academy and Santa Fe Christian. On Thursday, April 28, the Knights honor their 11 seniors before the 6 p.m. match.
"We seem to be peaking at the right time for the playoffs," said senior Sam Gal. "This year, we have had 19 different starting lineups, seven setters and eight different pin-hitters due to injuries. It has allowed a lot of guys to get playing time. The good news is our top lineup should be healthy for playoffs and we can put out our 20th starting lineup."
Boys' Tennis Represents in Ojai
The Ojai Tennis Tournament celebrated 120th edition last weekend and Bishop's represented in the CIF Boys Division. Tyler Li '24 and Aden Dorros '23 competed in doubles and Rex Harrison '23 competed in singles.
"The Ojai" is where champions are made. Upon entering the tournament, spectators' and players' pathways are lined with decades of past champions' photos. Many players who compete in the Ojai experience go on to be ATP and WTA professionals. The tournament features several divisions, including Pac-12 men's and women's team matches, division III, open men's and women's, junior divisions and CIF. Play takes place over six days.
This week, boys' tennis begins the CIF Open Coastal Division playoffs as the top-ranked team in the county ahead of their hard-hitting rivals Torrey Pines, La Jolla Country Day and Canyon Crest. They have consistently ranked over past years as high as one, and always within the top 10 in boys' high school tennis.
Boys' Water Polo Players Named to USA Water Polo Teams
After a grueling tryout this past weekend at the USA Water Polo National Team Selection Camp (NTSC) in Irvine, Chase Landa '23 made the 2022 Men's Youth National Team and Charlie Martin '25 was named to the 2022 Men's Cadet National Team, of which Bishop's assistant coach Ian Davidson '05 is an assistant coach. Congratulations, Chase and Charlie!