The Locker Room: April 13, 2022
Jen Jordan
College Bound Athlete Night on April 25
Bishop's College Counseling and Athletic Departments invite families to join us on campus in the Manchester Board Room or via Zoom for an informational event regarding the NCAA recruiting process for student-athletes. Please join us on April 25 if you or your student is interested in playing college sports. The schedule of the evening is below. Register here.
5:30 p.m. Welcome/Refreshments
6 p.m. Panel Discussion with Bishop's alumni currently playing in college, NCAA coaches and administrators
6:45 p.m. Q & A
Transition to Upper School Athletics on April 28
On April 28 at 8:30 a.m. in the Manchester Dining Room, Bishop's Athletics invites current eighth grade and new upper school families to join Bishop's Director of Athletics Paula Conway for an overview of the transition from middle school sports to upper school athletics. This presentation will give families an understanding of the time and scheduling commitments expected of our upper school student-athletes.
All-CIF Winter Sports
CIF-SDS Coastal Conference Winter Student-Athlete of the Year: Maggie Johnson '22
Boys' Basketball Second Team - Nicky Clotfelter '22
Girls' Basketball First Team - Angie Robles '22
Girls' Basketball Second Team - Renee Chong '22
Girls' Water Polo Player of the Year - Maggie Johnson '22
Girls' Water Polo First Team - Maggie Johnson, Alex Bonaguidi '22, Julia Bonaguidi '23, Deming Wyer '22, Alex Scafidi '22
Girls' Water Polo Second Team - Chiara Marmanillo '23, Soyoon Park '22
Girls' Lacrosse Secures Close Win Against Santa Fe Christian
By Coach Meg Carr
Bishop's Girls' Lacrosse sealed a tight win right before spring break, beating Santa Fe Christian 15-13.
Senior Zen Greene made seven crucial saves and cleared the ball right back into our midfield to create scoring opportunities.
With over six minutes left in the game, we were down by one. The team was able to maintain composure that helped gain control of the draw and took smart shots to score and complete the win.
Ninth-grader Natalie Marvin controlled the draw with seven wins and had four goals. Alex Pfister '25, Nicola Xanthopoulos '23 and Jordyn Mariam '23 also contributed multiple goals. Junior Erika Pfister notched six goals and an assist.
Swim Looks to Close Near-Perfect Season
By Coach Chad Saley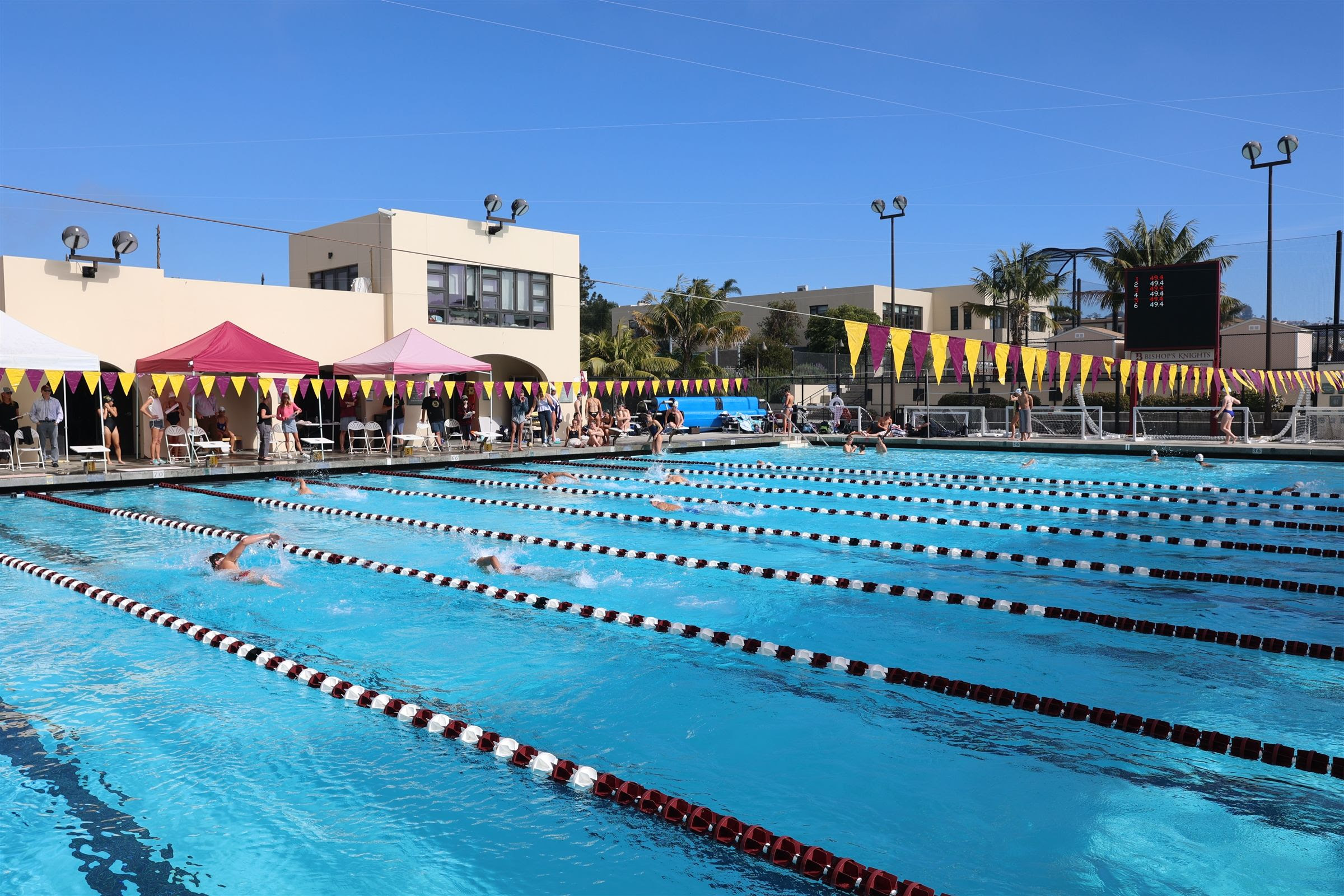 Before spring break, Bishop's Swim faced off against University City High School. The girls improved their record to 5-0, beating UC by a score of 88-82. The boys won by a huge margin, 121-46. They are now 4-1 on the season.
The girls had some great races that helped them secure the narrow six-point victory over a very talented UCHS swim team. Sofia Holman '24 won the 200 free (2:04.89), winning by less than half of a second over her competition. Kate Steinmeier '23 won both her individual races, taking first in the 200 individual medley and the 100 breaststroke. The 200 free relay was one of the deciding races and the girls won with a time of 1:47.66. Deming Wyer '22, Macy Haro '23, Camille Greenlee '23, and Julia Bonaguidi '23 made up the victorious relay.
The boys had a dominating performance, winning all three relays. Senior Lucius Brown and sophomore Callum Bolitho took first and second in the 200 individual medley, setting the tone for the rest of the meet. Greyson Davies '22 cruised to victory in the 500 free, making the grueling race look easy. Junior Yuto Fraley had a great time in the 100 free, winning the race with a 51.11. The boys had six races where they took first and second, leading them to an easy victory over UCHS.
The Knights' final home meet of the season is Thursday, April 14 at 3:30 p.m. vs. Coronado. Let's pack the stands and support this great group of seniors who have had a massive impact on the aquatics program at Bishop's!
Boys' Golf Leads Coastal League
By Coach David Payne
Varsity boys' golf is at the halfway point of the season and currently sits first in the Coastal League with a 6-1 record.
The team is led by senior Michael Behr and sophomore William Ma with a 1.68 and 0.68 Coastal League differential, respectively.
The Knights return to action following spring break to face off against La Jolla Country Day and non-league opponents Torrey Pines.
Baseball Falls in Close Game
By Coach Bryan Santy
Bishop's traveled to Chula Vista and fell 8-7 to the Olympian Eagles in the first game of the Lions Tournament.
Freshman Henry Armstrong had a standout day at the plate, tallying three hits. His clutch two-run double in the seventh inning got the Knights within one run.
Rhett LaRocca '22 and Cameron Ouyang '24 each doubled while Hunter Kates '22 and Jack Castagnola '23 each singled.
Freshman Griffin Hemerick came in out of the pen and threw two solid innings, keeping the Knights in the game and allowing the seventh-inning comeback.
Girls' Soccer Named San Diego Section All-Academic Team
Congratulations to Bishop's Girls' Soccer, which was named the 2022 Winter Mission Federal CIF San Diego Section All-Academic Team!
Emma Hong '22 was named the co-section scholar captain of the girls' soccer Coastal Conference team. Section scholar captains are the junior or senior on each all-academic team with the highest weighted cumulative GPA.
We're so proud of you!
Track And Field Competes in Conference Meet No. 3 and Invitational Meets Over Spring Break
In the fourth league meet with Francis Parker, La Jolla Country Day, Santa Fe Christian and Orange Glen, Bishop's took four 1st, three 2nd, and one 3rd place. Finishing in first place were Malaya Taylor '25 – 100M, Maddie Cramer '22 – 200M and 400M, and Jay Udinsky '23 – 400M. Finishing in a strong second was Malaya – 200M, Nancy Waldman '23 – 800M and the girls' 4 x 400 relay of Malaya, Isabella Combs '25, Michelle Lai '23, and Emily Zhu '23. The men's 4 x 400 of Naveen Vemulapalli '25, Steven Yin '24, Joshua Lee '23, and Jacob Cravatt '25.
Six Bishop's runners were invited to participate in the Mt. Carmel/Asics Track & Field Invitational with more than 500 athletes from across southern California competing. Maddie continues to progress as she finished second in the 800M with a personal best time of 2:11.49. Jay, Joshua, Steven and Naveen each ran their best times of the season in the 4 x 800M relay and Malaya beat last week's time in the 200M.
Over Spring Break several athletes were invited to compete in three invitational meets: UC Track Classic, Viking Relays and Maddie competed at the nationally recognized Arcadia Invitational against athletes from around the country. The Knights showed some impressive performances and improvements. Topping the list was thrower Emily Yang '24, improving in the shot put by over two feet with a distance of 24.5' and almost 7 feet in the discus with a throw of 60'. Joining her was Isabella running her best time of 30.08 in 200M and 1:08.77 in the 400M. Katelyn Wang '23 debuted in the hurdles, running 19.4 in the 100H and 1:00.21 in the 300H and freshman Malaya exploded in the 100M with a time of 12.63. The girls' 4 x 200 relay team, Malaya, Katelyn, Isabella and Maddie, came from behind to capture the silver at the UC Track Classic. For the boys, Jacob earned the bronze medal at the Viking Relays running the 800M with a time of 2:15.25. Tayshawn Taylor '24 ran his best time of 11.68 in the 100M. The distance medley relay team of Naveen, Steven, Joshua and Jacob ran their season-best time of 12:24.79.
The Knights continue the season at Orange Glen on Thursday for the fourth Coastal Cluster meet and Saturday at Mission Bay for the Jim Cerveny Invite.